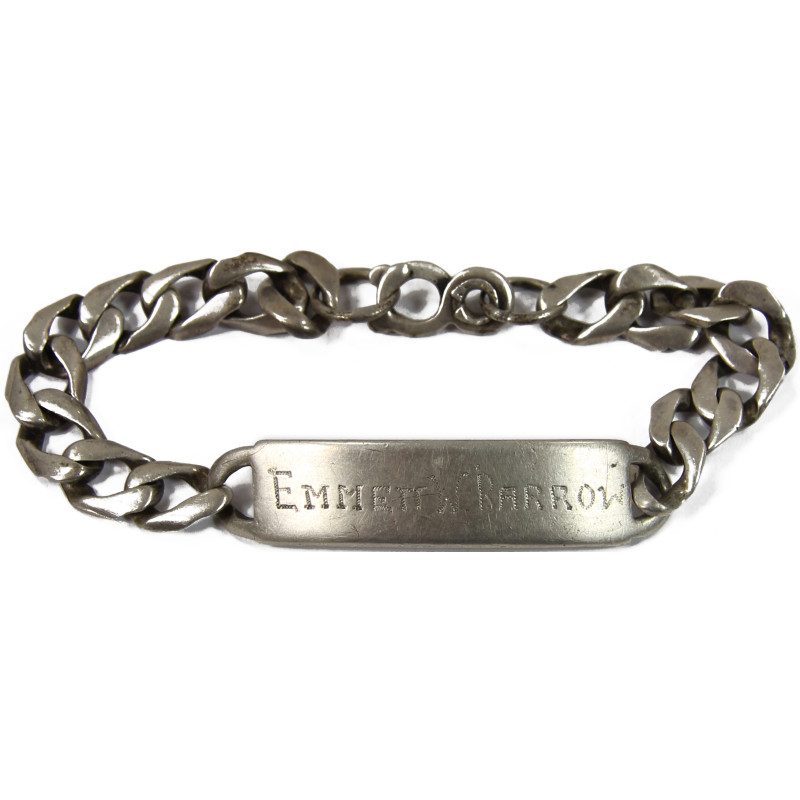  
Bracelet, Lt. Col. Emmett Barrow, US Army, PTO
Nice genuine WWII US Army silver alloy chain bracelet, which belonged to Emmett W. Barrow, officer's ASN O-1052252, marked Sterling on the reverse.
Clasp is in working order. Total length: 8.4in. Excellent overall condition.
Emmett Washington Barrow, Jr. was born on July 15, 1914 in Richmond, Virginia and joined the US Army on August 20, 1942 (ASN 33222864). He was commissioned an officer in April 1943 and went on to deploy in the Pacific, where he served in some antiaircraft artillery battalion. After the war, he pursued a military career and retired on November 1st, 1964 as a Lieutenant Colonel and passed away on April 11, 1993.
https://aad.archives.gov/aad/record-detail.jsp?dt=893&mtch=1&cat=all&tf=F&q=33222864&bc=&rpp=10&pg=1&rid=3705225
https://fr.findagrave.com/memorial/83635844/emmett-w-barrow
Illustration documents available in digital format only.