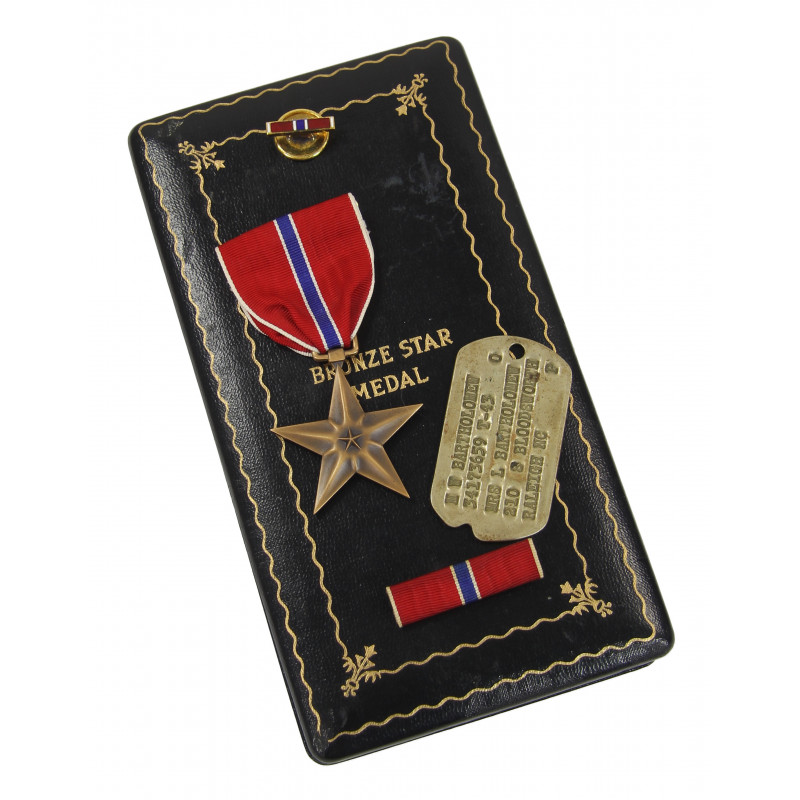  
Bronze Star & Dog Tag, Sgt. Melvin Bartholomew, 156th Field Artillery Bn., 44th Infantry Division, ETO
Genuine WWII US Bronze Star Medal, delivered in its original box with ribbon bar and lapel badge. A Monel dog tag issued to M.W. Bartholomew, ASN 34173659, vaccinated against tetanus in 1943, blood type O, Protestant, completes this lot.
Melvin Whitley Bartholomew was born on December 13, 1919 in North Carolina and joined the US Army on November 5, 1941. He went on to serve with Battery B, 156th Field Artillery Battalion, 44th Infantry Division and deployed to Europe. He passed away on September 22, 2010.
https://aad.archives.gov/aad/record-detail.jsp?dt=893&mtch=1&cat=all&tf=F&q=34173659&bc=&rpp=10&pg=1&rid=4614388
https://fr.findagrave.com/memorial/84586705/melvin-w-bartholomew
Illustration documents available in digital format only.