Back

Original

Female personnel

Diverse accessories

Sports and recreation

Grouping

Photographs

British Made

D-DAY

Reproduction

Female personnel

Diverse accessories

Memories

Clothing

Accessories

Caps

Stationery store

Tableware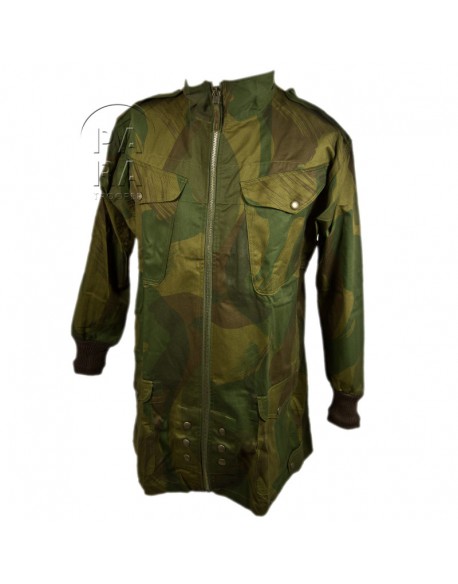  
Denison smock, Parachutist, early pattern
Denison smock, Parachutist, early pattern, officer. 
Reproduction of the Denison smock of British parachutist, 1st type with knitted woollen cuffs , with a full length zip in metal for officer. A "Beaver tail" is fastened beneath the crotch from the back to the front of the smock - which kept it from riding up during a parachute descent. Khaki wool collar lining, reproduction Newey snaps and Lightning zip. These are the best ever done.
The first pattern smock, issued 1942-44, has knit cuffs, one piece back and no snaps in back to hold up the tail. The Denison smock was a coverall jacket issued to Special Operations Executive (SOE) agents, the Parachute Regiment, the Glider Pilot Regiment, Air Landing Regiments, and other Commonwealth airborne units, to wear over their Battle Dress uniform during the Second World War. The smock's primary purpose was to prevent parachute rigging lines fouling on personal equipment as the wearer's parachute opened. However, it was equally useful as a camouflage garment, as a windproof, and as a method of carrying ammunition or equipment.