Back

Original

Female personnel

Diverse accessories

Sports and recreation

Grouping

Photographs

British Made

D-DAY

Reproduction

Female personnel

Diverse accessories

Memories

Clothing

Accessories

Caps

Stationery store

Tableware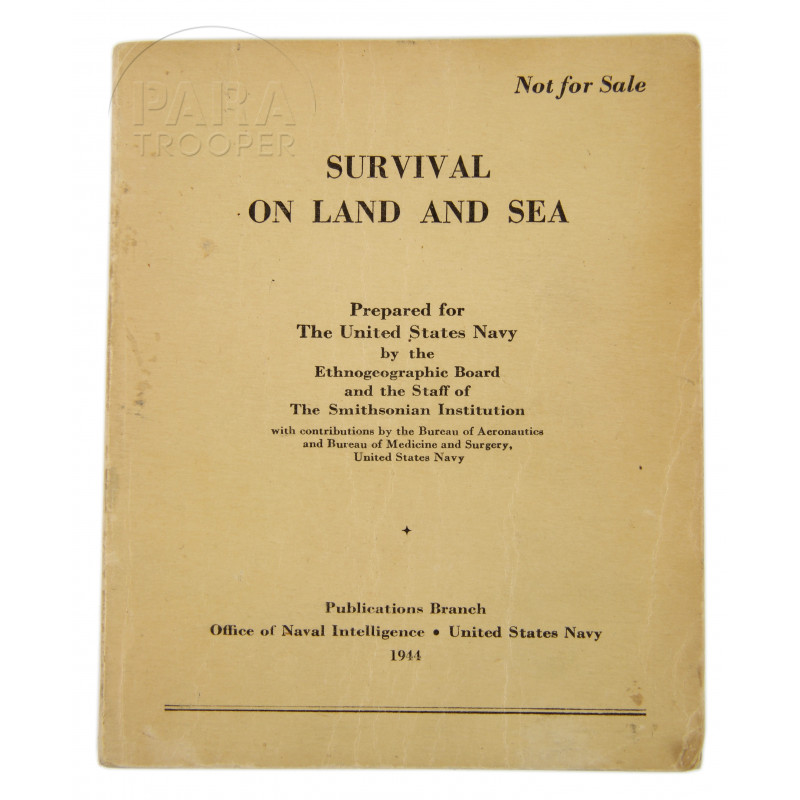  
Manual, Survival on land and sea, US Navy, 1944
Scarce genuine WWII US Navy manual, Survival on land and Sea, the manual is in excellent condition, all pages are intact and firmly bound, covers are in fine shape, contents appear intact and undamaged, just slight age toning.
Dated 1944. 
1) khaki canvas map case, dated 1942, with original plastic map grid included.  The map case is in near mint condition, not used much, it has Lt. Openshaw's ID number stenciled on front (O-4188), and his last name is stenciled on back. It looks like the lieutenant stenciled the N and the E of his name over each other.  The case is stamped on back with "AMERICAN LEATHER PRODUCTS CORP. 1942." The map case has its original carrying strap, with blackened brass hardware. The map case has lift-the-dot snaps on front, these are blackened brass embossed with "STAR PULL," and a star symbol between the words. The map case is an early war brownish khaki, with lighter OD trim and khaki/light OD carrying strap.
5) War Department Basic Field Manual FM24-5, "SIGNAL COMMUNICATION, October 19, 1942." The manual has written lightly in ink at top, "Lt Openshaw," also stamped on the manual is "PROPERTY OF RADIO TRAINING SECTION C30R10." The manual is in excellent condition, all pages present and tightly bound, no writing inside, clean.
From a U.S. Army officer, Lieutenant James Openshaw, O-1634188, who was with Company C of the 34th Signal Training Battalion of the U.S. Army Signal Corps. Early in WWII, Lt. Openshaw was stationed at Camp Crowder, Missouri. The lieutenant's estate was sold about 15 years ago. His M1 steel helmet and liner can be seen on pp. 52-53, 64, and  151 in Pieter Oosterman's book, M-1 Helmet of the WW2 US GI.