Back

Original

Female personnel

Diverse accessories

Sports and recreation

Grouping

Photographs

British Made

D-DAY

Reproduction

Female personnel

Diverse accessories

Memories

Clothing

Accessories

Caps

Stationery store

Tableware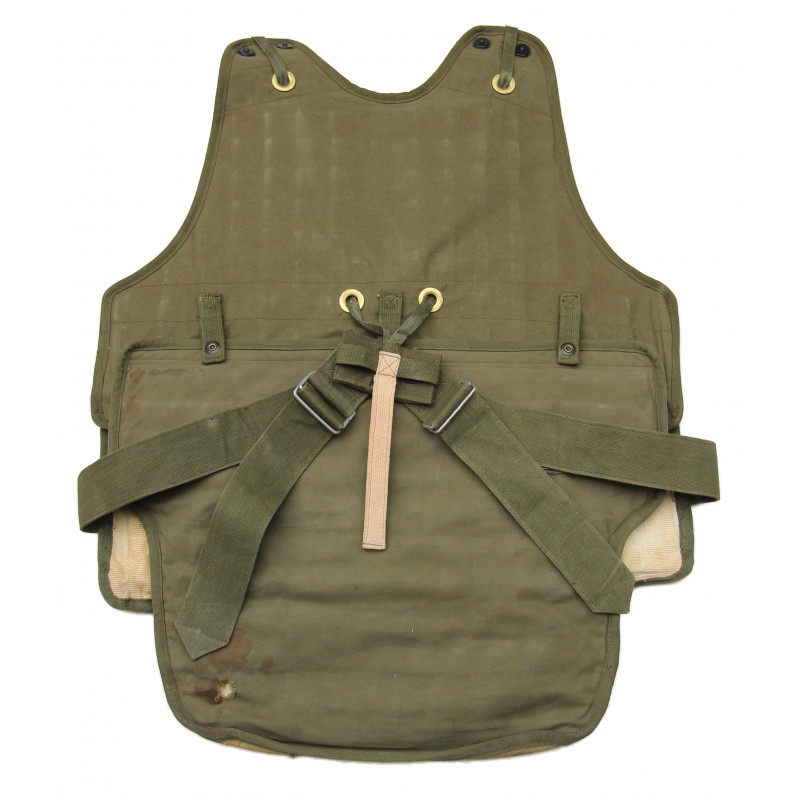  
Vest, Flyer's, Armor, M1+ Apron M4
Genuine WWII complete USAAF M1 Flyer's Armor Vest and M4 Apron; all snaps function. This M1 type armor vest consists of an armored front and back piece that fastened together at the shoulders. A quick-detaching device is positioned in front of the abdomen area.
This kind of vest was also extensively used by C-47 and glider pilots in Normandy, B-17 and B-24 bomber crews, and US Army engineers.
Intended for use by gunners, navigators, bombardiers and radio operators, whose duties involved standing or moving around the aircraft. The M1 vest was armoured to front and rear and constructed from overlapping manganese steel squares sewn into pockets within an heavy brown canvas covering. This was backed with a soft brushed cotton for comfort. Flak vests were issued from a 'pool' prior to missions and returned at the end of the 'Op' for use by outgoing crews. They were developed as a direct result of injuries sustained by 8th AAF crews flying from England. Initially there was considerable resistance and objection to wearing them but it is estimated that they reduced flak and bullet fatalities by 50% & injuries by 70%. Early development suits were manufactured by Wilkinson Sword in the UK but production suits were manufactured in America.
See "Combat Flying Equipment", chapter 4,  by C.G Sweeting.