Back

Original

Female personnel

Diverse accessories

Sports and recreation

Grouping

Photographs

British Made

D-DAY

Reproduction

Female personnel

Diverse accessories

Memories

Clothing

Accessories

Caps

Stationery store

Tableware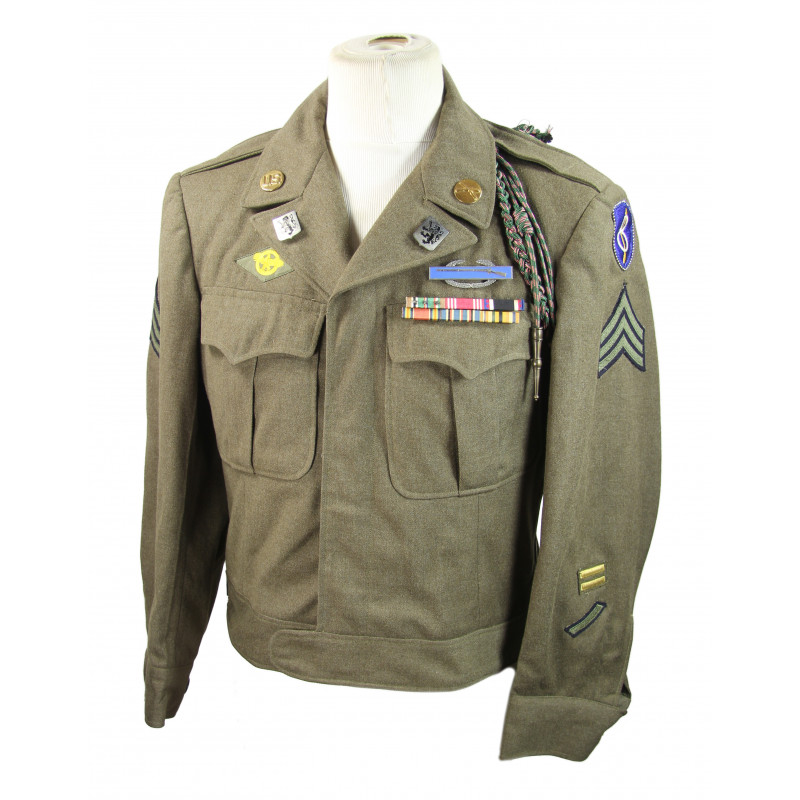  
Jacket, Ike, Sergeant, 28th Inf. Reg., 8th Inf. Div.
Superb genuine WWII US regulation pattern Enlisted Men's jacket, chosen by General Eisenhower in April 1944, hence the name 'Ike Jacket'. All original insignias present: collar discs, 28th Infantry Regiment crests, 8th Infantry Division, Combat Infantry Badge, French Croix de Guerre fourragère, medal ribbons*, Sergeant rank stripes, Overseas Service Bars, Service Stripe and 'ruptured duck'. 
Label legible. Size 38S and dated December 16, 1944. An amazing jacket, which belonged to a Sergeant of the 28th IR, 8th ID.
* European-African-Middle Eastern Campaign Medal with three stars; Good Conduct Medal; Army of Occupation of Germany (created in 1941 and awarded for service during the post-WWI period); WWII Victory Medal; American Campaign Medal; American War Medal (French Wounded Fund, WWI).