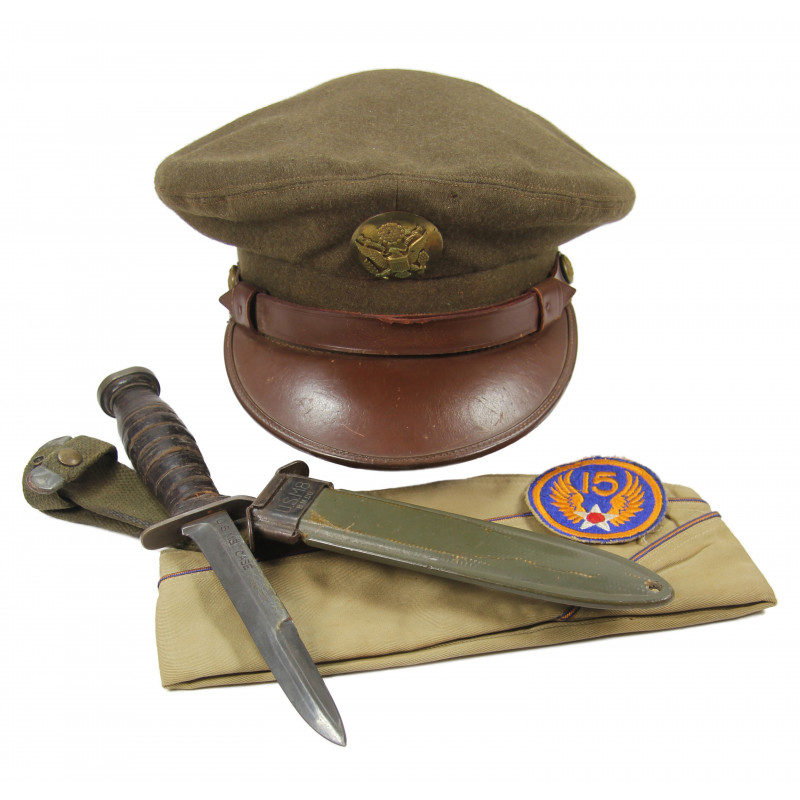  
Grouping S/Sgt. Linebaugh, 376th Bomb Group, B-24 Liberator, 132 combat missions
Grouping from S/Sgt. Victor R. Linebaugh, ASN 13048767, 514th Bomb Squadron, 376th Bomb Group, Ball Turret Gunner on board the famous 132 combat missions B-24 Liberator serial #41-29425, group #67: Liberandos Boomerang.
The 376th BG was the first bomber group in the western hemisphere to go into action against Nazi targets. The Boomerang was the highest scoring B-24 with the 15th Air Force having completed 132 combat missions. S/Sgt. Linebaugh participated in missions targeting Salerno, Anzio, and Cassino in the Rome campaign, Bologna... He also took part in the missions supporting the invasion of Southern France in August 1944, including the mission over St. Tropez on D-Day, 15 August 1944 and beaches as cover for invasion.
Linebaugh, birth on July 2, 1921 from Pennsylvania, enlisted in the Air Corps on 4 February 1942. Died in 11 December 1995 at 74 years old.
Group      Date      A/C # and   Mission Target         Pilot
Mission #               letter
    1 219   3/  3/1944 67     Prato Italy                      Lester Carlson
    2 221   3/11/1944 67     Toulon France                Lester Carlson
    3 222   3/15/1944 67     Cassino Italy                  Lester Carlson
    4 223   3/17/1944 67     Schwechat Austria          Lester Carlson
    5 224   3/18/1944 67     Gorizia Italy                   Lester Carlson
    6 225   3/19/1944 67 E   Klagenfurt Austria         Lester Carlson 
    7 226   3/24/1944 67      Steyr Austria                 Lester Carlson
    8 228   3/28/1944 67 E   Mestre Italy                   Lester Carlson
    9 229   3/29/1944 67 E   Bolzano Italy                 Lester Carlson
  10 230   3/30/1944 67      Sofia Bulgaria               Lester Carlson
  11 231   4/  2/1944 67      Steyr Austria                 John Shepard
  12 232   4/  3/1944 67 E   Budapest Hungary        Lester Carlson
  13 233   4/  4/1944 67      Bucharest Romania       Lester Carlson
  14 234   4/  5/1944 67 E   Polesti Romania            Franklin Hunsaker
  15 235   4/  7/1944 67 E   Mestre Italy                   John Ford
  16 236   4/12/1944 67 E   Weiner Neustadt Austria    John Brock
  17 237   4/13/1944 67 G  Budapest Hungary             John Brock
  18 239   4/16/1944 67 E   Brasov Rumania                John Shepard
  19 240   4/17/1944 67 E   Sofia Bulgaria                    Lester Carlson
  20 241   4/20/1944 67 E   Mestre Italy                       Lester Carlson
  21 242   4/23/1944 67 E   Schwechat Austria             Lester Carlson
  22 245   4/28/1944 67      Porto Santo Stefano Italy    Lester Carlson
  23 252   5/12/1944 67 H   Piombino Italy                  Earle Lowry
  24
  25 254   5/14/1944 67 J    Vicenza Italy                      John Brock
  26 255   5/17/1944 67      Porto Santo Stefano Italy    Earle Lowry
  27 256   5/18/1944 67 J    Polesti Romania                 Lester Carlson
  28 257   5/19/1944 67      Spezia Italy                        Earle Lowry
  29 258   5/22/1944 67 J    Porto Marghera Italy          Earle Lowry
  30 259   5/23/1944 67 J    Frascati Italy                      Lester Carlson
  31 260   5/24/1944 67 J    Weiner Neustadt Austria     Earle Lowry
  32 261   5/25/1944 67 J    Montfalcone Italy               Earle Lowry
  33 262   5/26/1944 67 J    Nice France                        Lester Carlson
  34 263   5/27/1944 67 J    Marseille France                 Wilbur Cloud
  35 264   5/29/1944 67      Weiner Neustadt Austria     John Griffin
  36 265   5/30/1944 67      Pottendorf Austria              Lester Carlson
  37 267   6/  2/1944 67 J    Simeria Rumania                Earle Lowry
  38 268   6/  4/1944 67 J    Genoa Italy                        Earle Lowry
  39 269   6/  5/1944 67 J    Castel Maggiore Italy         Wilbur Cloud
  40 270   6/  6/1944 67 J    Polesti Romania                 Wilbur Cloud
  41 271   6/  9/1944 67 J    Munich Germany               Wilbur Cloud
  42 272   6/10/1944 67 J    Trieste Italy                       Wilbur Cloud
  43 273   6/11/1944 67 J    Constanta Rumania           Donald Robinson
  44 274   6/13/1944 67 J    Allach Germany                 Wilbur Cloud
  45 275   6/14/1944 67 J    Sisak Yugoslavia                Wilbur Cloud
  46 276   6/16/1944 67      Bratislavia Czechoslovakia Wilbur Cloud
  47 277   6/22/1944 67 J    Casarsa Italy                      Wilbur Cloud
  48 278   6/23/1944 67      Polesti Romania                 Wilbur Cloud
  49 279   6/24/1944 67 J    Polesti Romania                 Wilbur Cloud
  50 280   6/25/1944 67      Toulon France                    Wilbur Cloud
  51 281   6/26/1944 67 J    Schwechat Austria              Wilbur Cloud
  52 287   7/  5/1944 67 J    Toulon France                    Kenneth Draper
  53 288   7/  6/1944 67 J    Casarsa Italy                      Wilbur Cloud
  54 291   7/  9/1944 67      Polesti Romania                 Wilbur Cloud
  55 292   7/12/1944 67 J    Var France                         Wilbur Cloud
  56 293   7/13/1944 67 J    Brescia Italy                       Wilbur Cloud
  57 295   7/15/1944 67 J    Polesti Romania                 Wilbur Cloud
  58 296   7/19/1944 67 J    Neuaubing Germany          Wilbur Cloud
  59 297   7/20/1944 67 J    Friedrichshafen Germany   Wilbur Cloud
  60 298   7/21/1944 67 J    Horshing Austria               Frank Hedrick
  61 300   7/26/1944 67      Markersdor Austria            Vernon Townes
  62 301   7/27/1944 67 J    Budapest Hungary             Frank Hedrick
  63 302   7/30/1944 67 J    Lispe-Budafapue Hungary Frank Hedrick
  64 303   7/31/1944 67 J    Targoviste Rumania           Richard Riedel
  65 304   8/  3/1944 67 J    Avisio Italy                         Wilbur Cloud
  66 305   8/  6/1944 67 J    Toulon France                    Wilbur Cloud
  67 306   8/  9/1944 67 J    Budapest Hungary              Wilbur Cloud
  68 307   8/10/1944 67 J    Polesti Romania                 Clyde Armstrong
  69 308   8/12/1944 67 J    Marseille France                 Roy Schechter
  70 309   8/13/1944 67 J    Toulon France                    Arthur Johnson
  71 310   8/14/1944 67 J    Savona Italy                        Frank Hedrick
  72 311   8/15/1944 67 J    St. Tropez France               Clyde Armstrong
  73 312   8/17/1944 67 J    Polesti Romania                 Kenneth Nelson
  74 314   8/22/1944 67 J    Lobau Austria                    Edward Reno
  75 315   8/23/1944 67 J    Vosendorf Austria              James Bentley
  76 317   8/26/1944 67 J    Bucharest Romania            Walter Mimetz
  77 320   8/28/1944 67 J    Miskolc Hungary                Arthur Johnson
  78 321   8/29/1944 67 J    Borovnica Yugoslavia         Walter Mimetz
  79 322   8/30/1944 67 J    Cuprija Yugoslavia             Kenneth Nelson
  80 323   9/  1/1944 67 J    Kraljevo Yugoslavia            Arthur Johnson
  81 324   9/  2/1944 67 J    Kraljevo Yugoslavia            William Hipple
  82 326   9/  5/1944 67 J    Ferrara Italy                       Edward Reno
  83 327   9/  6/1944 67      Lescovac Yugoslavia          Clyde Armstrong
  84 328   9/  8/1944 67 J    Nis Yugoslavia                   Edward Reno
  85 330   9/12/1944 67 J    Munich Germany               Edward Reno
  86 334   9/18/1944 67      Budapest Hungary             Julian Boyce
  87 335   9/19/1944 67 J    Mitrovica Yugoslavia          Walter Mimetz
  88 336   9/20/1944 67 J    Bratislavia Czechoslovakia Hubert Barber
  89 337   9/21/1944 67      Novi Sad Yugoslavia           Edward Reno
  90 338   9/22/1944 67 J    Larissa Greece                    Frank Hedrick
  91 339   9/23/1944 67 J    Avisio Italy                         Charles Huey
  92 341 10/  4/1944 67 J    Brenner Pass Italy               Lonnis Hicks
  93 342 10/  7/1944 67 J    Komaron Hungary              Edward Reno
  94 343 10/10/1944 67 J    Padua Italy                         Edward Reno
  95 344 10/11/1944 67 J    Vienna Austria                   Edward Reno
  96 346 10/12/1944 67 J    Bologna Italy                      Edward Reno
  97 349 10/16/1944 67 J    Steyr Austria                      Edward Reno
  98 350 10/17/1944 67 J    Vienna Austria                   Edward Reno
  99 351 10/23/1944 67 J    Brenner Italy                      Charles Huey
100 352 10/29/1944 67 J    Munich Germany               Harvey Dockery
101 354 11/  4/1944 67 J    Munich Germany                Julian Boyce
102 355 11/  5/1944 67 J    Vienna Austria                   Harvey Dockery
103 358 11/  6/1944 67      Sarajevo Yugoslavia           Otho Upshur
104 359 11/  7/1944 67 J    Brenner Pass Italy              Lonnis Hicks
105 360 11/  8/1944 67 J    Prejipolja Yugoslavia          William Kremer
106 362 11/11/1944 67 J    Mezzocorona Italy              Harvey Dockery
107 363 11/12/1944 67 J    Mezzocorona Italy              Lonnis Hicks
108 367 11/15/1944 67 J    Sjenica Yugoslavia              William Kremer
109 368 11/16/1944 67 J    Munich Germany                William Smith
110 369 11/17/1944 67 J    Vienna Austria                   Harvey Dockery
111 370 11/18/1944 67 J    Aviano Italy                       William Kremer
112 371 11/19/1944 67 J    Vienna Austria                   James White
113 372 11/20/1944 67 J    Zenica Yugoslavia              Harvey Dockery
114 373 11/22/1944 67 J    Verona Italy                       George Kremer
115 374 11/23/1944 67 J    Brod Yugoslavia                 Charles Huey
116 376 12/  2/1944 67      Straszhof Austria               William Smith
117 378 12/  6/1944 67      Szombathely Hungary        Richard Reiland
118 381 12/11/1944 67      Mooserbierbaum Austria    Gerald Schusler
119 383 12/15/1944 67      Innsbruck Austria               William Stump
120 388 12/21/1944 67 J    Rosenheim Germany          Richard Reiland
121 389 12/25/1944 67      Hall Austria                        Roy Hatem
122 390 12/26/1944 67      Avisio Italy                         Robert Robertson
123 394   1/  4/1945 67      Bronzolo Italy                    Robert Pelzman
124 395   1/  9/1945 67      Linz Austria                       Sidney Gage
125 396   1/15/1945 67 J    Vienna Austria                   Wilbur Wood
126 404   2/  8/1945 67 J    Vienna Austria                   William Stump
127 407   2/13/1945 67 J    Zagreb Yugoslavia              John Sheley
128 408   2/14/1945 67 J    Mooserbierbaum Austria    Glenn Estell
129 409   2/15/1945 67 J    Matzleindorf Austria           Henry Wyszynski
130 410   2/16/1945 67      Laipheim Austria                 Albert Schmidt
131 411   2/17/1945 67 J    Korneuberg Austria             Henry Wyszynski
132 412   2/19/1945 67      Graz Austria                        Michael Reding