Back

Original

Female personnel

Diverse accessories

Sports and recreation

Grouping

Photographs

British Made

D-DAY

Reproduction

Female personnel

Diverse accessories

Memories

Clothing

Accessories

Caps

Stationery store

Tableware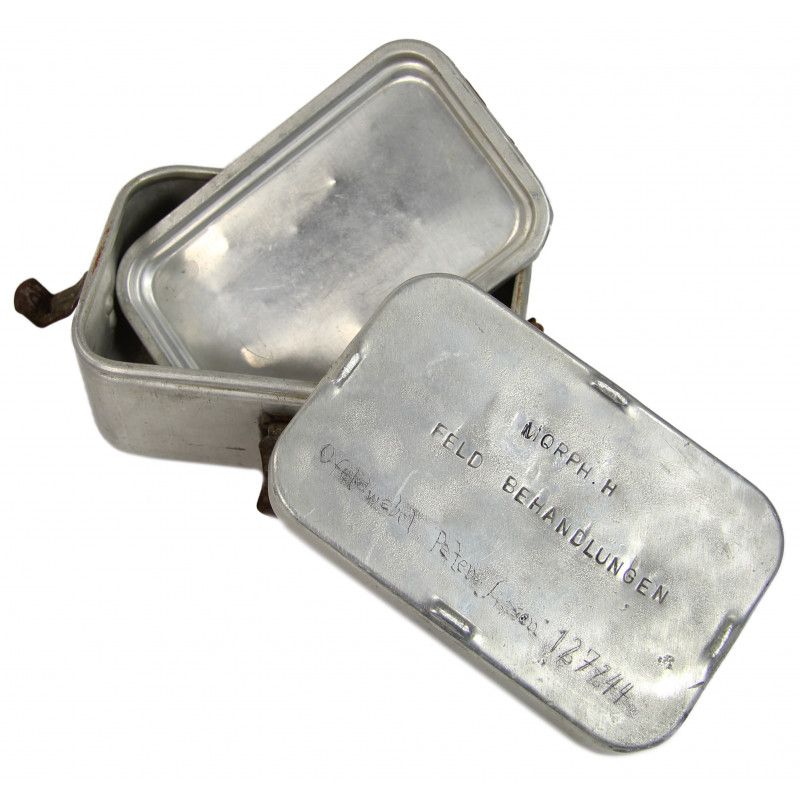  
Morphine Container, Wehrmacht, Named, Normandy
Scarce genuine WWII German aluminium box for morphine ampoules. This box was probably designed as a toiletry kit item and later reused as a field container for morphine and other first aid artefacts. It is made up of a main rectangular box on top of which a first lid is secured by four hinges (in working condition); a second lid covers the whole set.
The following designations, clearly legible, were stamped on the latter: Morph. H and Feld Behandlungen; the owner also carved his rank, name and service number underneath these words: O[ber]feldwebel Peter Jansen, 127244. The bottom of the box features the list of places that marked his journey during the war: Cognac, Paris, Prag, Stettin, Brest-Litovsk, Danzig, Lyon, Minsk, Smolensk, Saarbrücken, Bordeaux and Normandie. 
A truly amazing evidence of a Wehrmacht NCO's itinerary during the conflict.