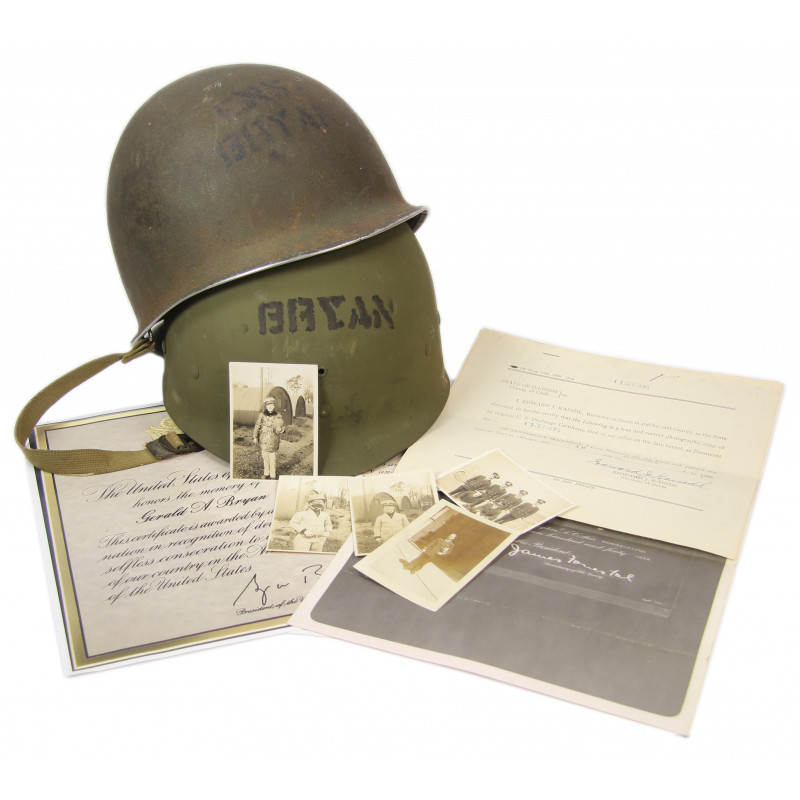  
Helmet, M1, Ens. Gerald Bryan, 11th Amphibious Force, Normandy
Scarce genuine WWII M1 helmet, which belonged to Ensign Gerald A. Bryan, who served in the ETO as Division and Gunnery Officer with the LCP(L) Unit, Gunfire Support Craft, Eleventh Amphibious Force, at Utah Beach and Omaha Beach, Normandy, France, on June 6, 1944.
Helmet is a fixed bales, manufactured by McCord, shell number 552B; canvas strap with 1st type brass buckles. Abbreviation ENS. for Ensign and name BRYAN have been painted on the front. Delivered with its original liner manufactured by Westinghouse, featuring OD-painted A washers; the name BRYAN appears twice -- on the front and inside.
This complete helmet comes along with five original photographs of Gerald Bryan. Two of them show him with his helmet.
Also included are copies of various documents related to his service, such as his service record, discharge certificate and other pictures.
Gerald Aloysius Bryan was born on August 10, 1922 in Owensboro, Kentucky. He joined the US Navy on March 22, 1942 and was commissioned on September 22, 1943 as an Ensign; after Normandy, promoted to Lieutenant (Junior Grade) on January 1, 1945, he sailed aboard LSM 377 with the 7th Amphibious Force in the Pacific and was discharged in 1946.
https://fr.findagrave.com/memorial/51126291/gerald-a-bryan
You might also like