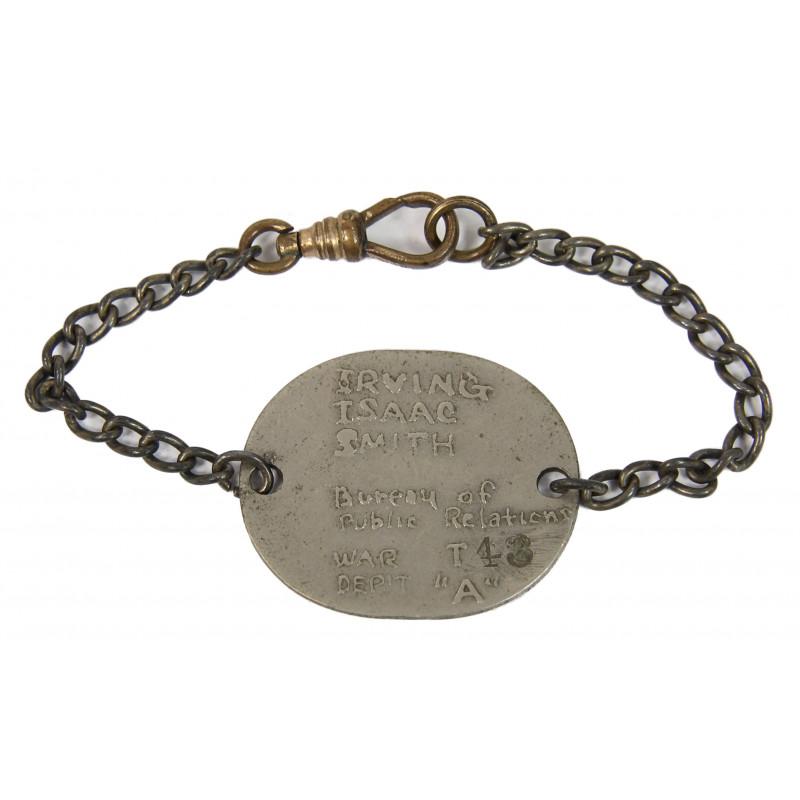  
Chain Bracelet, Dog Tag, War Department, 1943
Genuine WWII US identity disc mounted on a chain bracelet (fastener in working condition). This 'dog tag' belonged to Irving Isaac Smith, blood type A, vaccinated against tetanus in 1943, employed by the Bureau of Public Relations - War Department.  
The News Branch of the Bureau of Public Relations was established on February 11, 1941. In 1943 it became the News Division.
The News Division collected and disseminated news items, including still pictures, and arranged for radio broadcasts of interest to the War Department. In 1945 it had five major operating branches. The Analysis Branch had general responsibility for research, collection, and compilation activities and for providing a central source of current news and information in the War Department. This Branch's Radio (or Radio Intelligence) Section issued the "Daily Radio Digest" and the "Foreign Broadcast Digest" based on propaganda broadcasts of the Axis nations that had been intercepted and translated by the Foreign Broadcast Intelligence Service and other agencies. Its Research (later Information) Section compiled for War Department use 3 daily news bulletins based on the wire services of member organizations of the National Press Association. Its Press Intelligence Section operated a clipping bureau and prepared a daily "Press Digest" for dissemination within the War Department. The Publications Branch and the Press Branch dealt with book and magazine publishers and with newspaper editors and press bureaus. The Radio Branch, with offices in Los Angeles and New York City, as well as in Washington, DC, handled relations with radio broadcasters, planned special radio programs such as "The Army Hour" and "Command Performance," and sponsored the Army Hour Planning Board. The Pictorial Branch handled contracts with motion picture producers and users of still pictures and maintained a library of photographs used for publicity purposes.
You might also like