Back

Original

Female personnel

Diverse accessories

Sports and recreation

Grouping

Photographs

British Made

D-DAY

Reproduction

Female personnel

Diverse accessories

Memories

Clothing

Accessories

Caps

Stationery store

Tableware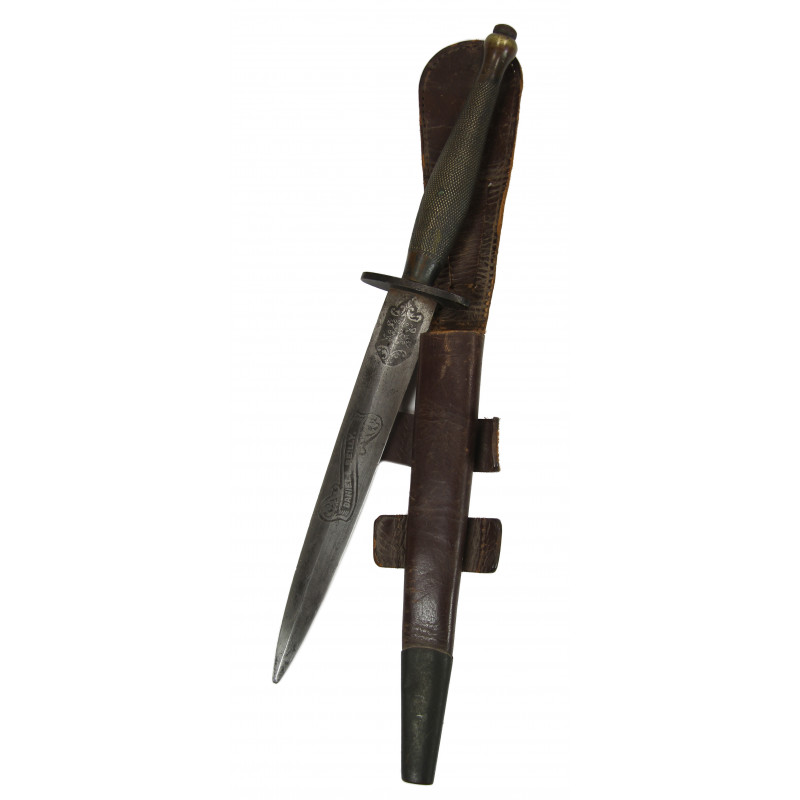  
Knife, Fighting, Fairbairn Sykes, Wilkinson, 1941
X-rare genuine WWII British Fairbairn Sykes fighting knife, 2nd pattern, manufactured by Wilkinson Sword at London in 1941 and named to Daniel L. Reilly. 
Until 1942, Wilkinson Sword was the only company to produce the F-S knives. In 1942 came two other manufacturers. One was later known for its acceptance mark B2. It was made according to the drawings of the black hilt 2nd Pattern Wilkinson F-S knife. It was most likely made by BSA, according to Robert Wilkinson Latham, who has found supporting evidence. The close resamblance is the reason why many collectors assumed that the acceptance mark B2 stands for Wilkinson, which is not correct. Wilkinson Sword only provided the drawings for BSA. Wilkinson Sword, BSA/B2 and J. Clark & Son were the only manufacturers of these early 2nd Pattern F-S knives.
The handle is cast in pure brass. The blades are delicate and uniform, and the weapon, though light, is perfectly balanced.