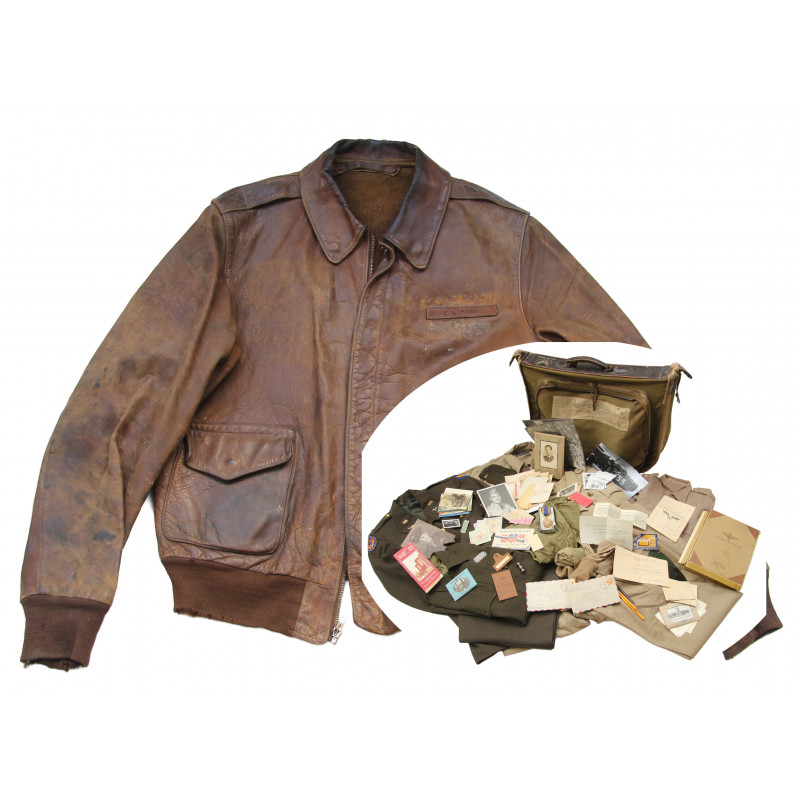  
Grouping, T/Sgt Foss, Gunner B-24 Liberator, 484th Bomb Group, Italy, France...
Scarce and superb genuine WWII US grouping from T/Sgt. Elmer L. Foss, a gunner with 826th Bomb Squadron, 484th Bomb Group, 15th Air Force. 
This set is made up of his suitcase with off-duty uniforms, along with various personal documents, maps, aerial pictures of his bombing missions, as well as other belongings -- dog tag, Air Medal, lighter and A-2 jacket. The latter features a leather name tag above wich his name was also written in Arabic language. His aircraft's name and chalk number appear on the back: "Flaming Mamie - 55".
Elmer L. Foss took up the challenge of bombing the Ploesti oil complex in Romania three times, Bucharest twice and Munich and Brux in Czechoslovakia -- particularly defended and deadly targets. He participated in the famous mission over a Messerschmitt Bf 109 factory in Austria, as well as various bombing raids over Italy and France, in particular Avignon in June 1944.
Altogether, an amazing lot from a legendary family! Don't miss it! 
Pictures of this grouping were published in French magazine Uniformes.
Elmer L. Foss was born on October 11, 1918 in Minnesota. He joined the Cavalry in 1939 but transferred to the Air Corps in 1941. The Foss family were drawn to a military career: Elmer's brother, Donald, was a USMC fighter pilot in the Pacific. After the war, he was President Eisenhower's personal pilot. Elmer's other brother, Ardeen, served as an ensign in the Navy. But the most famous member of the family was one of their cousins -- the very famous Joe Foss, USMC fighter pilot, Medal of Honor, 26 victories in 4 months!
Elmer L. Foss was part of the original crews of the 484th BG and went to Italy as part of Lt. Remington's crew aboard B-24 # 42-52632 named Flaming Mamie (title of a famous jazz music late 1920s). He thus participated in the Group's first mission on April 29, 1944.
T/Sgt. Foss had some difficult missions, such as the one during which his aircraft was hit head-on in the middle by a Flak burst, destroying the electrical and hydraulic systems and leaving as a solid and intact link between the front and rear of the aircraft the 'catwalk' (narrow gangway connecting the two parts of the bomber over the bomb bay). On several occasions, T/Sgt Foss had to endure emergency landing, extreme conditions or the loss of one or more engines. He was never physically injured, but at the end of his tour of operations, the doctor who examined him required a minimum rest period of 90 days. Because of his excessive tiredness which caused irritability, increased blood pressure and weight loss, he recommended his repatriation. 
T/Sgt Elmer L. Foss subsequently trained to become an officer, a goal he achieved in November 1946. He ended his career in the US Air Force in September 1960 as a Captain.