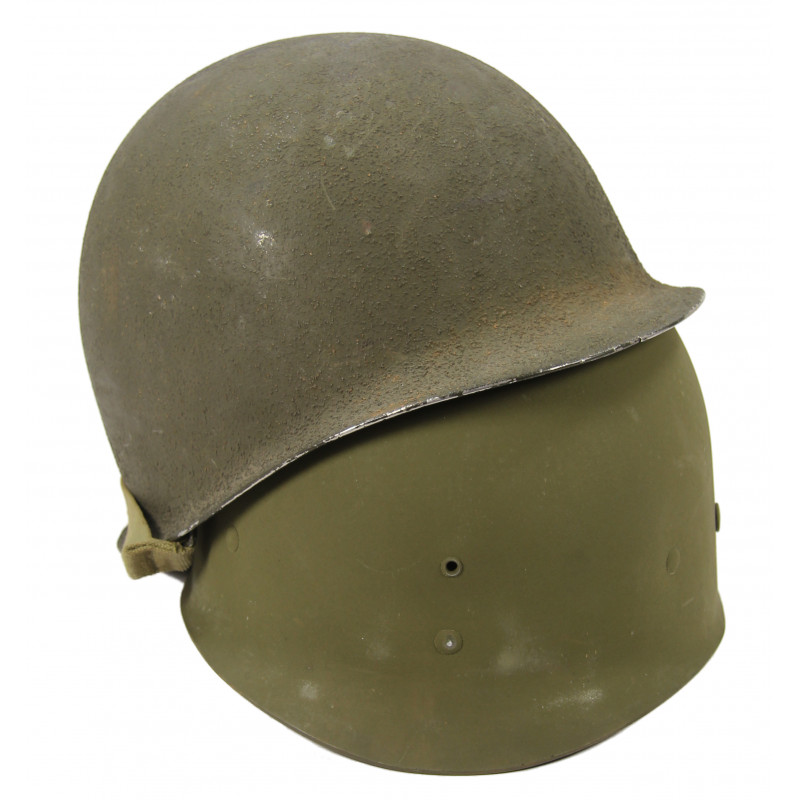  
Helmet, M1, TIME Correspondent Harry Zinder
Genuine WWII US M1 helmet, fixed bales, manufactured by McCord, shell number 667A, original 2nd pattern canvas straps with steel buckles. Complete with its liner, manufactured by Westinghouse, OD green A washers. In perfect condition.
The name Harry Zinder has been handwritten on top of the shell. Harry Zinder was born on March 8, 1922 in Maryland and joined the US Army on November 28, 1942 at Baltimore (service number 33386177). He passed away on October 5, 1975 and was buried in Long Island National Cemetery, New York.
https://aad.archives.gov/aad/record-detail.jsp?dt=893&mtch=7&cat=all&tf=F&q=Zinder&bc=&rpp=10&pg=1&rid=3864947&rlst=235494,2936704,3864947,4039146,4340559,8658827,780604
Zvi Hazy Zinder (1909-1991), journalist and radio reporter, was born in the United States. He traveled to Palestine in 1937 and served as a reporter for the newspapers Time-Life, Palestine Post, AP News Agency and other papers. When the war broke out he was sent by Time-Life to cover the war in North Africa, the West European front and the Far East. Post war when the State of Israel was established he became an Israeli journalist and was appointed as director of "Kol Israel".
Harry Zinder, head of the TIME and LIFE Cairo office in 1942, was hurt in an airplane crash last week on his way to the Western Desert to cover the great tank battle in Libya. On 26 June 1944 Zinder Harry Zinder, who took part in the B-29 bombing of Japan aboard one of the foursuperfortress that crashed went missing after the first Superfortress raid on Japan. , TIME Correspondent Harry Zinder and the crew of a wrecked B-29 turned up later last week at their base. Zinder cabled:Post war, Mr Zinder became Press officer at Israel's information office and later director of the Voice of Israel. Risking their lives in order to get the story and the pictures of the B-29 Super-Fortresses raid on the Japanese steel center at Yawata where these war correspondents. Standing and (L to R): Robert L. Bryant, International News Photos; Toby Wiant, for the Associated Press; Roy Porter, NBC; Clay Gowran, Chicago Tribune; and B. Hoffman of Life.
Kneeling are (L to R); Frank Cancallare, Acme Newspictures; Harry Zinder, Time Magazine; and Walter Rundle of the United Press.
They are shown just before entering their appointed planes ready for the hop over Japan.
During winter 1944-45 Harry Zinder, followed the Allied forces as they slowly pushed back the Belgian bulge. His helmet was recovered at Pepinster, Belgium in a house that served as the International Press Center.