Back

Original

Female personnel

Diverse accessories

Sports and recreation

Grouping

Photographs

British Made

D-DAY

Reproduction

Female personnel

Diverse accessories

Memories

Clothing

Accessories

Caps

Stationery store

Tableware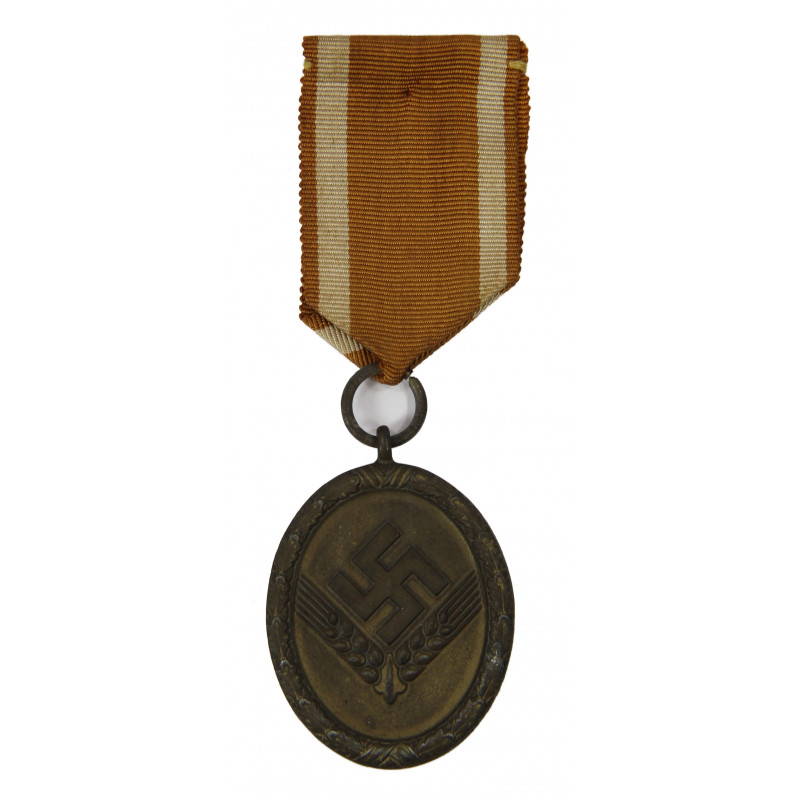  
Dienstauszeichnung des Reichsarbeitsdienstes, RAD Long Service Award, Fourth Class
Genuine WWII German medal, Dienstauszeichnung des Reichsarbeitsdienstes.
Created in January 1938, the National Labor Service Long Service Award was given in four grades: 4th Class - Bronze (four years of dedicated service to the RAD), 3rd Class - Silver (twelve years), 2nd Class - Silver with silver emblem on ribbon (eighteen years) and 1st Class - Gold with golden emblem on ribbon (twenty-five years).
The present medal corresponds to the 4th Class, bearing the phrase Für treue Dienste in der Reichsarbeitsdiesnst on the reverse. This particular version was intended for female personnel, the observe featuring two wheat ears surmounted by a single swastika -- the type intended for male personnel features a spade on which the swastika is superimposed.
Note: The blue, knot-shaped ribbon specific to this medal (as see in the picture below) is missing; it has been replaced with the Westwall-Medaille ribbon.