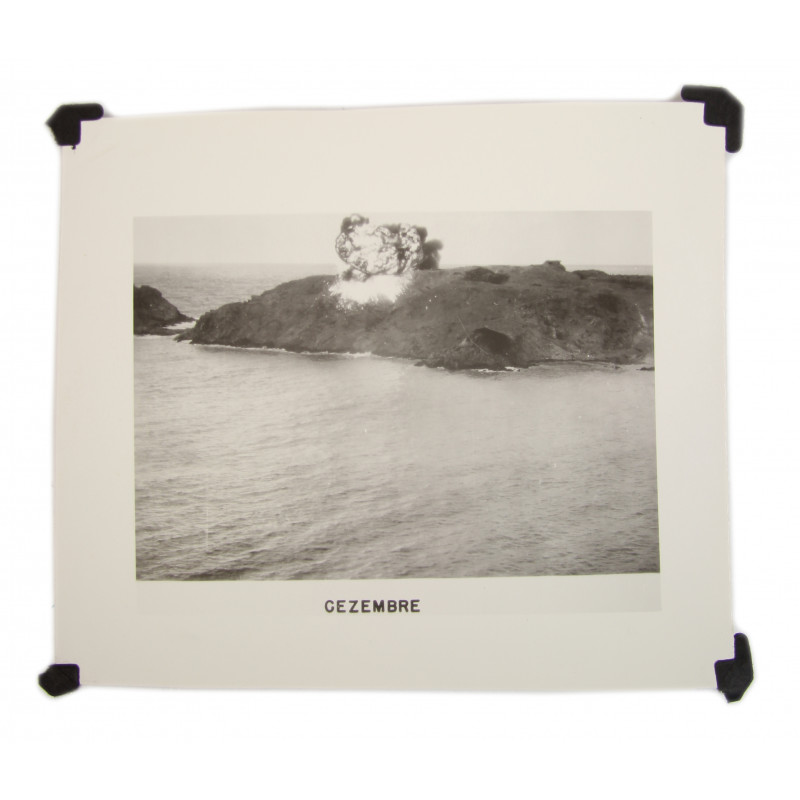  
Photo, Aerial, Cezembre, 1944
X-Rare historical WWII unpublished aerial reconnaissance picture showing bombardment of Cezembre island off Saint-Malo, first use of Napalm incendiary bomb in France, 1944.
Taken by the infamous "Peck's Bad Boys" of the 67th Tactical Reconnaissance Group on D-Day.
Original print from 67th Tactical Reconnaissance Gp album.
20.5 x 17.5 cm.
The 67th performed tactical reconnaissance during the D-Day invasion of Europe, flying North American P-51 Mustangs. Unit was based at Aldermaston and Membury, so that their reconnaissance photographs and visual intelligence would be quickly available to IX Troop Carrier Command and its C-47 Troop Carrier units based there.
From Membury, C-47 troop carriers dropped paratroops of 101st Airborne Division inland from the Utah beachhead early on 6 June and released 82nd Airborne Division gliders on the next day.
The 67th T.R. Group received a DUC for operations along the coast of France, when it flew at low altitude in the face of intense flak to obtain photographs that aided the invasion of the Continent, flew weather missions, and made visual reconnaissance for ground forces.
After D-Day, the 67th based F-4/P-38 Lightnings and F6/P-51 Mustang photo-reconnaissance aircraft in Normandy at on Airfield A-9 Le Molay (Molay-Littry) Known as Advanced Landing Ground "A-9" from July though August 1944 to photograph US and enemy positions to support the Normandy campaign.
You might also like