Back

Original

Female personnel

Diverse accessories

Sports and recreation

Grouping

Photographs

British Made

D-DAY

Reproduction

Female personnel

Diverse accessories

Memories

Clothing

Accessories

Caps

Stationery store

Tableware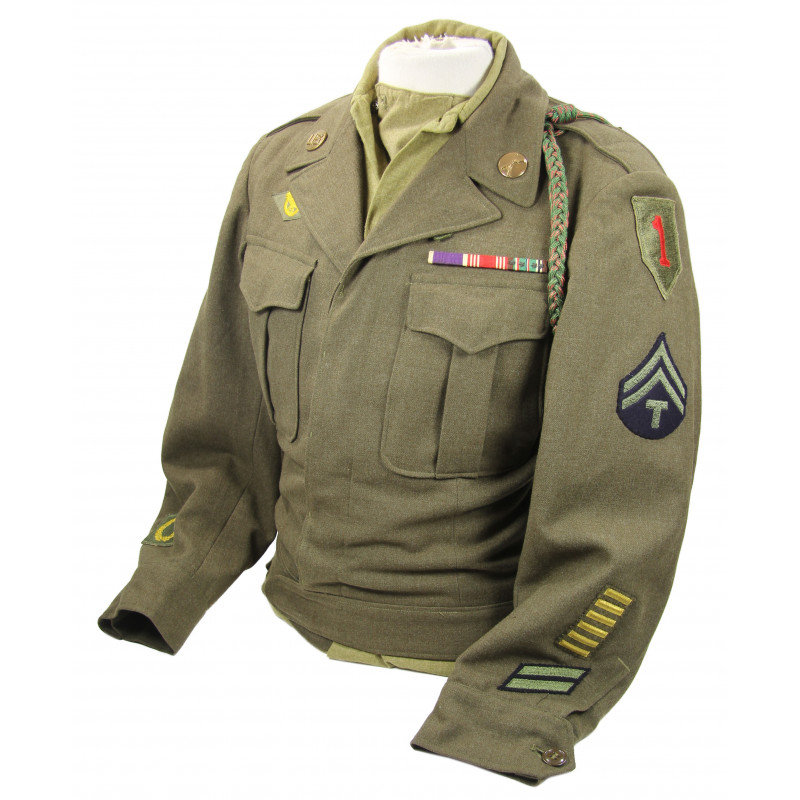  
Jacket, Ike, and Shirt, 1st Infantry Division
Superb genuine WWII US Army lot, made up of a regulation Enlisted Men's jacket and a flannel shirt with gas flap (Special).
Chosen by General Eisenhower in April 1944, this type of jacket soon became popular as the 'Ike Jacket'. The present one retains all its original insignia: 1st Infantry Division shoulder patch, US-embossed and crossed rifles collar discs, Technician 5th Grade rank stripes, medal ribbons (Purple Heart Medal, Good Conduct Medal, European–African–Middle Eastern Campaign Medal with four Stars), French Croix de Guerre fourragere, Meritorious Service Unit Badge, Overseas Service Bars, Service Stripes and 'Ruptured Duck'. Label still present, dated June 10, 1944, size 36R.
The OD flannel shirt with gas flap (Special) also retains its 1st Infantry Division shoulder sleeve insignia. Label still present, size 14 1/2 x 33.
This homogenenous set is complete and in excellent overall condition.