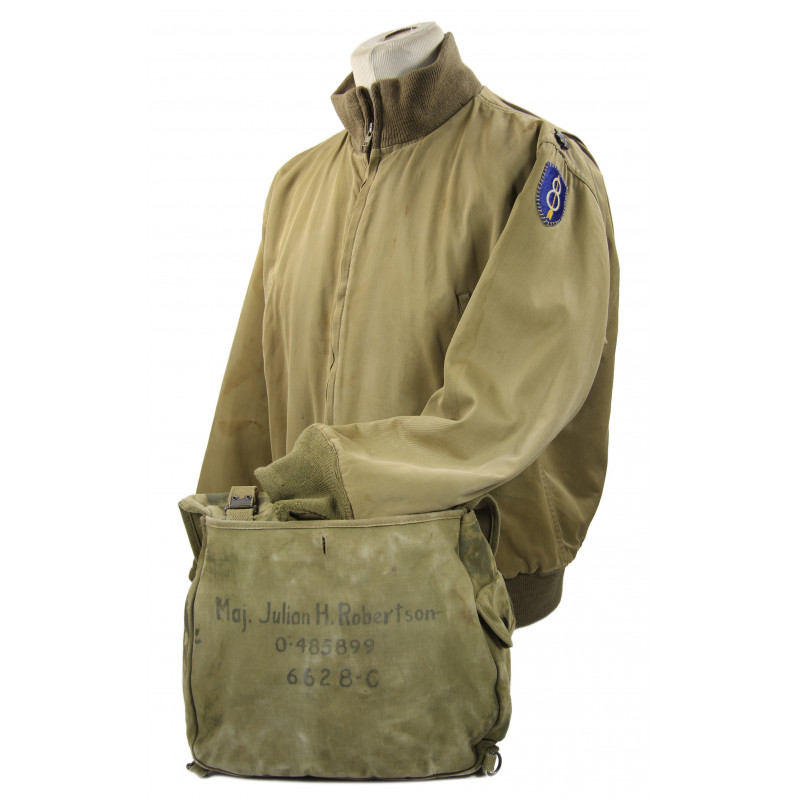  
Grouping, Lt. Col. J.H. Robertson, Hq. 8th Infantry Division
Superb genuine WWII US Army grouping, which belonged to Lieutenant Colonel Julian H. Robertson, service number O-485899.
This amazing lot is made up of a winter combat jacket and a camouflaged M-1936 field bag. The 'tanker jacket', whose zipper flap features initials J.H.R., retains its original insignias -- Lieutenant Colonel rank insignia on both shoulders and 8th Infantry Division patch on the upper left sleeve. The reverse of the musette bag features the following markings: Maj. Julian H. Robertson - O-485899 - 6628-C.
Julian Hart Robertson was born on November 3, 1899 in Salisbury, North Carolina. He joined the US Army in July 1918 and qualified as a Rifle Expert and a Marksmanship Instructor. He returned to civilian life after a few years of service and worked for a textile company in his hometown. He joined back in August 1942 and became Division Ordnance Officer with the 8th Infantry Division. The recipient of four Bronze Stars, he was discharged in October 1945 with the rank of Lieutenant Colonel. He passed away on February 22, 1995 and rests in Salisbury.
This grouping is in excellent condition.
https://fr.findagrave.com/memorial/84788412/julian-hart-robertson
You might also like