Back

Original

Female personnel

Diverse accessories

Sports and recreation

Grouping

Photographs

British Made

D-DAY

Reproduction

Female personnel

Diverse accessories

Memories

Clothing

Accessories

Caps

Stationery store

Tableware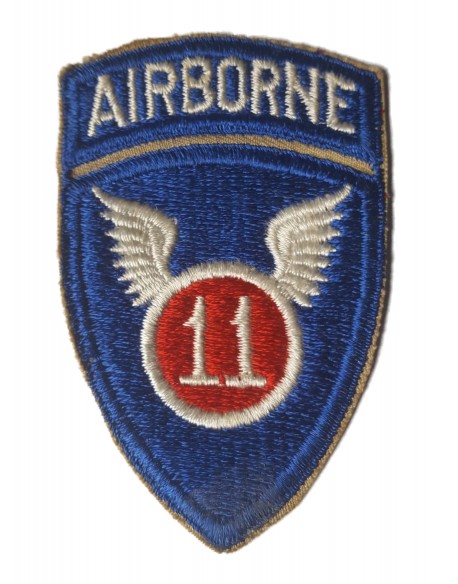  
Patch, 11th Airborne Division
Genuine WWII US shoulder sleeve insignia of the 11th Airborne Division.
The 11th Airborne Division (Angels) was first activated on 25 February 1943. The division underwent rigorous training throughout 1943. It played a vital role in the successful Knollwood Maneuver, which was organized to determine the viability of large-scale American airborne formations after their utility had been called into question following a disappointing performance during the Allied invasion of Sicily.
In June 1944, the division was transferred to the Pacific Theater of Operations. It entered a period of intense training and acclimatization, and by November was judged combat-ready. The division saw its first action on the island of Leyte in the Philippines. In January 1945, it took part in the invasion of Luzon and participated in the Liberation of Manila, and two companies of divisional paratroopers conducted an audacious raid on the Los Baños internment camp, liberating two thousand civilians. The 11th Airborne's last combat operation was in the north of Luzon, in aid of combined American and Philippine forces who were battling to subdue the remaining Japanese resistance on the island.
You might also like