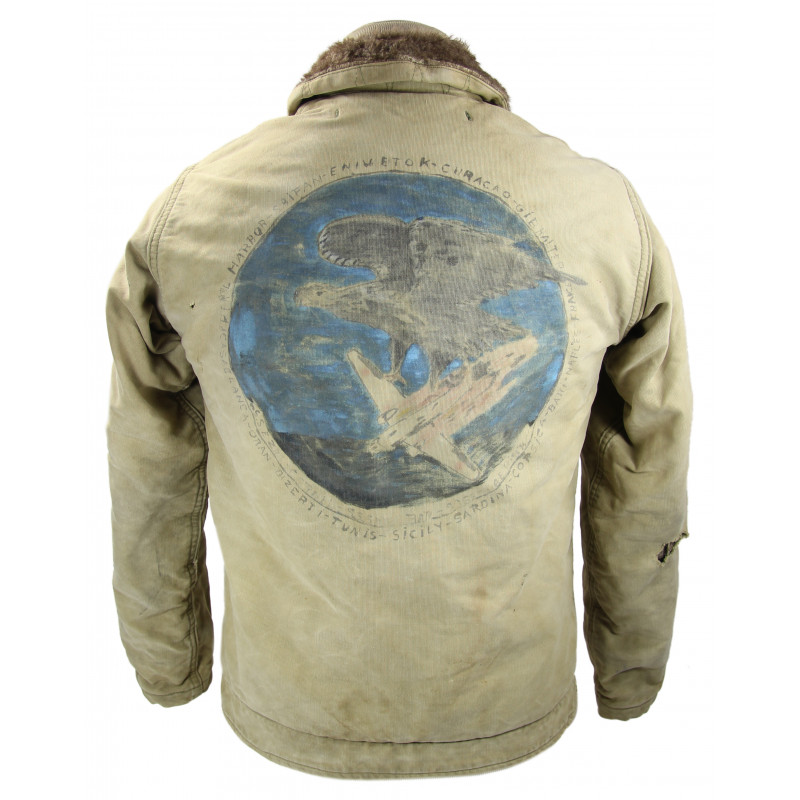  
Jacket, Deck, N-1, US Navy, S1 Don Kegarise, Normandy
Nice genuine WWII US Navy N-1 Winter Jacket, featuring six plastic buttons and a front zip. Introduced in early 1943, this khaki twill fabric deck jacket, featuring alpaca fur lining and two side pockets, is inseparable from every American sailor's work dress. Original label still present: Navy Department - Contract NXSX 73257. Size 46. Worn condition. Talon zipper is broken and one button is missing.
The name Kegarise, D.A. has been stenciled above the regulation U.S.N. markings on the left breast. An amazing hand-painted piece of art adorn the back of this jacket, representing the American eagle catching an enemy bomber in flames; the various places where its owner served during the war have been handwritten all around this drawing: Casablanca - Oran - Bizerti - Tunis - Sicily - Sardina - Corsica - Bari - Naples - France - Gibraltar - Curaçao - Eniwetok - Saipan - Pearl Harbor.
Further details below.
Don Arthur Kegarise was born on September 16, 1925 in Hollidaysburg, Pennsylvania and joined the US Navy on August 13, 1943 in Altoona (service number 250-97-63). Seaman 1st Class D.A. Kegarise went on to serve in the Mediterranean, in Normandy and in the Pacific aboard various vessels, including two Liberty Ships (USS Ezra Cornell and USS George M. Bibb) and a tanker (USS Skull Bar). He was discharged on April 1st, 1946 and passed away on December 1st, 1992.
https://fr.findagrave.com/memorial/171947484/don-a.-kegarise
You might also like