Back

Original

Female personnel

Diverse accessories

Sports and recreation

Grouping

Photographs

British Made

D-DAY

Reproduction

Female personnel

Diverse accessories

Memories

Clothing

Accessories

Caps

Stationery store

Tableware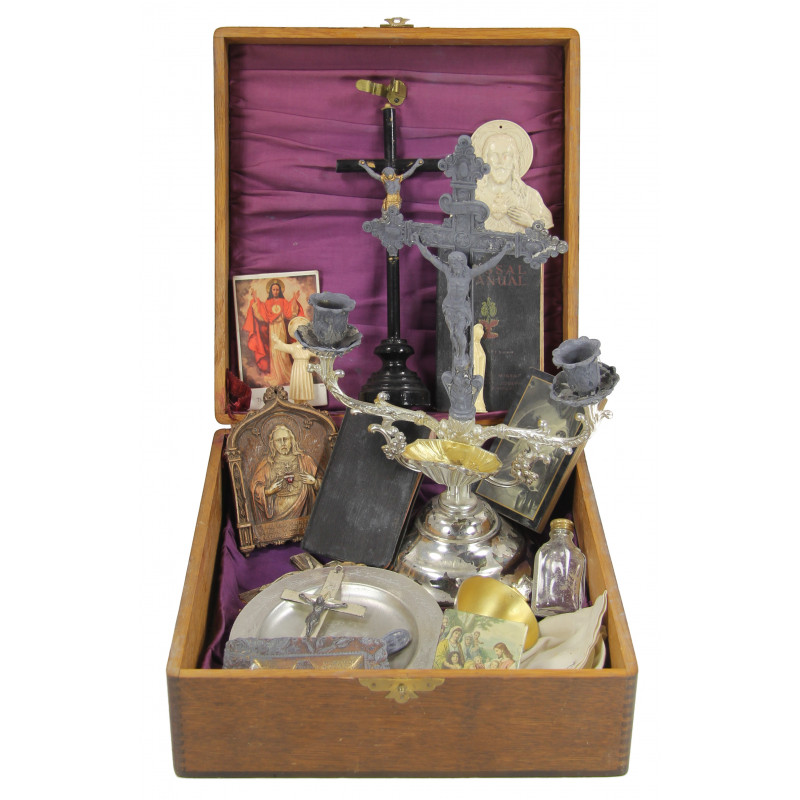  
Altar, Portable, Chaplain, Catholic
Scarce genuine WWII US Chaplain's portable altar, intended for celebrating mass on the battlefield. The present kit is made up of a wooden crate retaining most of the liturgical artefacts needed for communion. The Christogram IHS, visible on various items, indicates that this portable altar was initially intended for the Catholic faith -- being a Latin transcription of ΙΗΣ, which corresponds to the first three letters of Jesus' name in Greek. 
The various metal artefacts of the mass kit itself bear the following markigs: Sick-Call Outfit - Special Metal - Pat'd April '97. A lot of holy cards, a prayer book, a named missal manual containing a mass calendar for the years 1939 and 1940, as well as different votive objects complete this exhaustive kit.
Dimensions of the box: 11.4" x 10.6" x 4.5".
Excellent condition. Clasp in working order.
You might also like