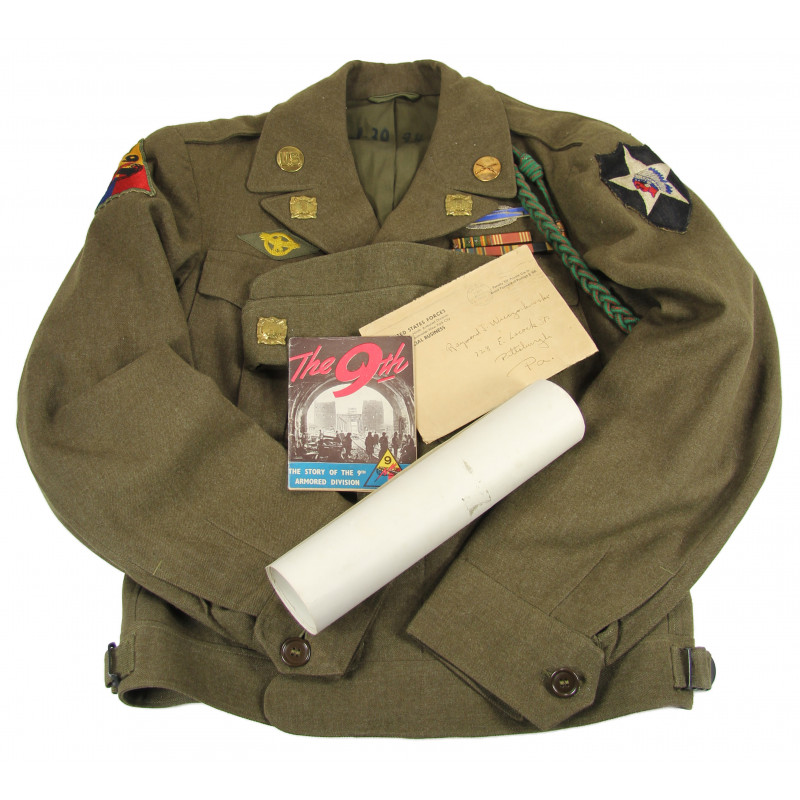  
Grouping, Raymond Wieczorkowski, 9th Inf. Regt., 2nd Infantry Division
Superb genuine WWII US Army grouping, which belonged to Raymond Wieczorkowski and whose main piece of gear consists in a regulation enlisted men's jacket, of the type chosen by General Eisenhower in April 1944 -- hence the 'Ike Jacket' denomination under which it soon became popular.
The present one retains all its original insignia: 2nd Infantry Division and 9th Armored Division shoulder sleeve insignias, US-embossed and Infantry collar discs, Combat Infantry Badge, medal ribbons (European–African–Middle Eastern Campaign Medal with two Stars, Good Conduct Medal, American Campaign Medal, WWII Victory Medal and Army of Occupation Medal), French Croix de Guerre fourragere and 'Ruptured Duck'. Laundry number W3094 has been handwritten inside. Label is dated July 26, 1944. Size 34R.
In perfect condition, this jacket comes along with its matching garrison cap, which retains a 9th Infantry Regiment distinctive insignia used as a cap badge. Label is dated March 21, 1945. Size 6 7/8.
A 'yard-long' group photograph of G Company, 9th Infantry Regiment, 2nd Infantry Division, as well as a booklet tracing the route of the 9th Armored Division in the ETO (delivered in its original enveloppe, dated October 24, 1945 and addressed to Raymond J. Wieczorkowski) complete this very nice, homogeneous set.
Raymond Joseph Wieczorkowski was born on August 22, 1925 in Pittsburgh, Pennsylvania where he joined the US Army on October 2, 1944 (ASN 33893094). He went on to serve with the 9th AD prior to his transfer to the 2nd ID. Deceased on November 26, 1998.
https://aad.archives.gov/aad/record-detail.jsp?dt=893&mtch=1&cat=all&tf=F&q=33893094&bc=&rpp=10&pg=1&rid=4342579
https://fr.findagrave.com/memorial/18246380/raymond-j-wieczorkowski
Illustration documents shown above are only available in digital format.