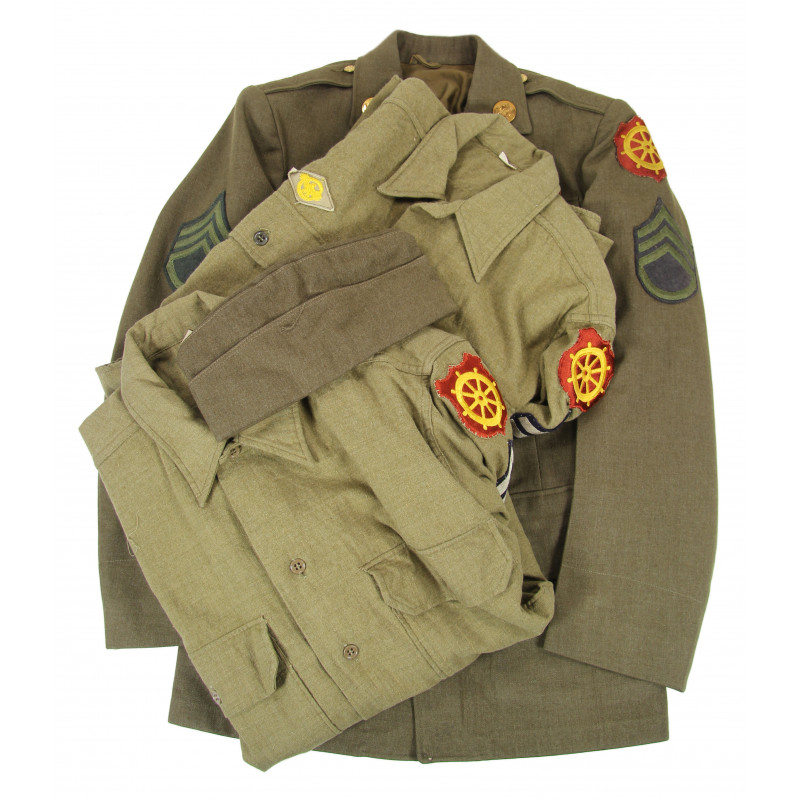  
Grouping, S/Sgt., US Transportation Corps, Ports of Embarkation, ETO, D-Day
Superb genuine WWII US Army grouping, comprising an Other Ranks off-duty jacket, two OD flannel shirts and a garrison cap, which belonged to some Staff Sergeant of the Ports of Embarkation Units (US Transportation Corps) deployed in the European Theater of Operations.
For Operation Overlord, embarkation and launching of the assault movement from the Marshalling areas to the ports and hards for embarkation beginning the May 30th, 1944, were under control of the Transportation Corps, Ports of Embarkation.
The wool serge jacket retains its original insignias: Ports of Embarkation Units and ETO Advanced Base shoulder patches, US and Transportation Corps, Staff Sergeant rank stripes, medal ribbons (WWII Victory Medal, European-African-Middle Eastern Campaign Medal and Good Conduct Medal), 'Ruptured Duck' and Meritorious Service Unit Badge. Label still present, dated October 12, 1940 size 34R. 
The flannel shirts are of the Special type, featuring a gas flap behind the front buttons; both retain their original insgnias: Ports of Embarkation Units and ETO Advanced Base shoulder patches, Staff Sergeant rank stripes and Overseas Service Bars. One of these shirts also retains a 'Rutpured Duck'. Size 15 ½ x 32.
The wool garrison cap has no piping. No label visible yet corresponds to size 6 ½. Laundry number H 2883 has been handwritten on the sweatband.
A homogeneous set in excellent overall condition.