Back

Original

Female personnel

Diverse accessories

Sports and recreation

Grouping

Photographs

British Made

D-DAY

Reproduction

Female personnel

Diverse accessories

Memories

Clothing

Accessories

Caps

Stationery store

Tableware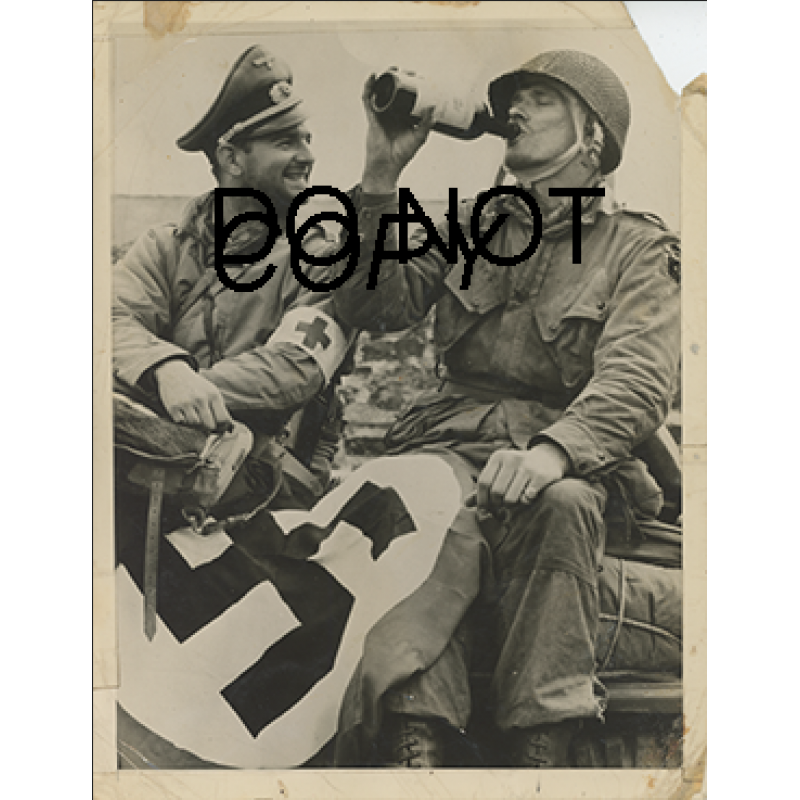  
Photo, Original Print, 508th PIR, 82nd AB Div., Normandy
Scarce genuine WWII photograph, in which pose Lieutenants Briand N. Beaudin and Paul E. Lehman, 3rd Bn., 508th PIR, 82nd Airborne Division -- original print. International News Photo stamp still visible.
Both officers were captured on D-Day; the present pic was taken on the occasion of their liberation later in June.
Medic Lt. Briand N. Beaudin and 2nd Lt. Paul E. Lehman, both of 3rd Battalion, 508th Parachute Infantry Regiment, 82nd Airborne Division were taken prisoner by German forces, soon after landing in the what should have been the Picauville area (west of Sainte-Mère-Église). They landed some way away from the intended drop zone.
Lt. Beaudin is seen here wearing a German Officers hat and Lt. Lehman displays a Nazi flag, souvenirs of their experience in short captivity.
They are celebrating the liberation of Orglandes by the 9th and 90th US Infantry Divisions on the 17th of June 1944.
In this photograph Lt. Lehman has his throat bandaged, having accidentally fallen on another mans bayonet in the darkness of the 6th June.
Medic Lt. Beaudin, had taken him to a nearby village to give him first aid but was soon discovered and captured by a German patrol and they were both taken to a German Field Hospital in Orglandes (where Lt. Beaudin tended for both wounded Allied and German troops). Ten days later, the town was liberated.
Lt. Lehman had recovered sufficiently to re-join the 508th and on the 4th July in an engagement at 'Hill 95' near the village of la Poterie, he was injured by shrapnel and whilst being carried away from the action, was hit by gunfire in his back and died soon afterwards.
2/Lt Paul E Lehman Co.Hq/3 - Died of Wounds, Normandy, 4th July 1944 - Buried at Arlington National Cemetery, VA.