Back

Original

Female personnel

Diverse accessories

Sports and recreation

Grouping

Photographs

British Made

D-DAY

World War I

Reproduction

Female personnel

Diverse accessories

Memories

Clothing

Accessories

Caps

Stationery store

Tableware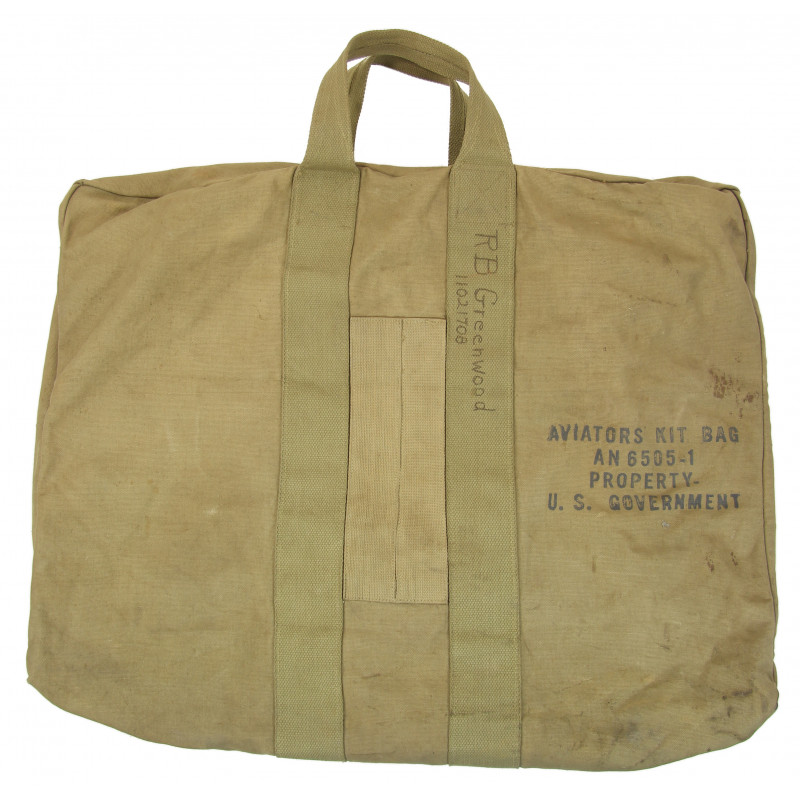  
Aviator's Kit Bag, AN 6505-1, S/Sgt. Robert Greenwood, USAAF, CBI
Genuine WWII US Aviator's Kit Bag, AN6505-1. This kind of bag was used by USAAF aircrews and airborne troops. A few US paratroopers carried such a kit bag when jumping into Normandy.
In good, used condition, the present bag retains its original markings: Aviator's Kit Bag, AN6505-1, Property US Government. Both Crown zippers have been damaged. The owner's rank, name and service number have been stenciled twice on the upper part: S/Sgt R. Greenwood 11021708. One of the reinforcing strips features the following handwritten mention: R.B. Greenwood 11021708.
Robert Browning Greenwood, Jr was born on May 23, 1920 in Winchendon, Massachusetts and joined the US Army Air Corps on January 14, 1942. He went on to serve as an aircraft electrician in the China-Burma-India theater for two years and a half and was discharged on October 2, 1945 with the rank of Staff Sergeant. He passed away on April 27, 1994.
https://aad.archives.gov/aad/record-detail.jsp?dt=893&mtch=1&cat=all&tf=F&q=11021708&bc=&rpp=10&pg=1&rid=376687
https://fr.findagrave.com/memorial/163516013/robert-browning-greenwood
Illustration documents available in digital form only.