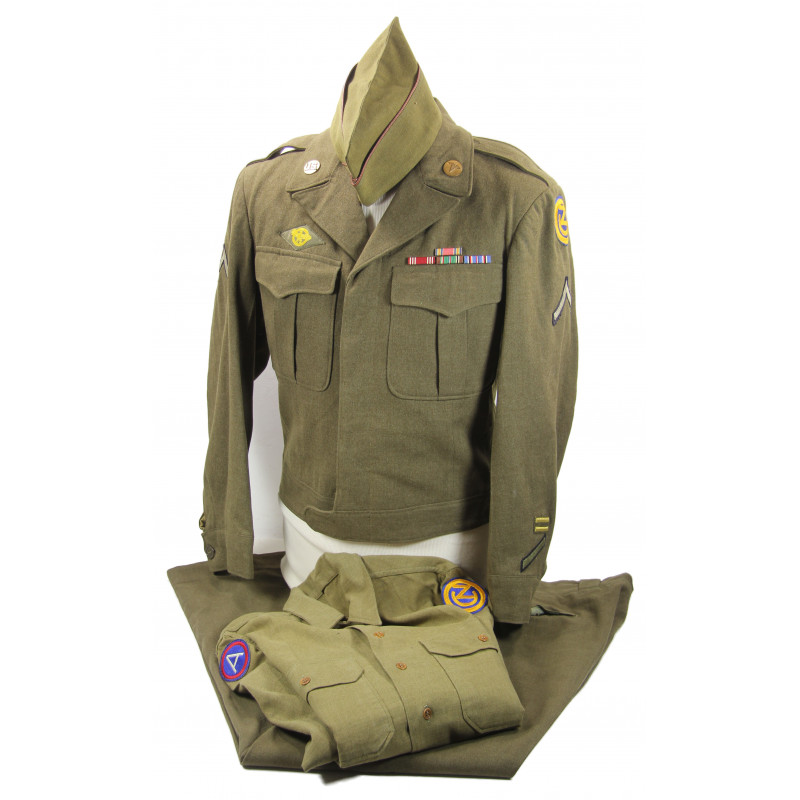  
Grouping, Medic, Pfc. Herbert Bohm, 102nd Infantry Division, ETO
Great genuine WWII US Army grouping, made up of a regulation jacket of the type chosen by General Eisenhower in April 1944 -- hence the 'Ike Jacket' denomination under which it soon became popular, with matching trousers, flannel shirt with gas flap, and wool garrison cap, which belonged to Private First Class Herbert C. Bohm.
The jacket retains its original insignia: 102nd Infantry Division and Third Army shoulder patches, Private First Class rank stripes, 'Ruptured Duck', US and Medical Department collar disks, medal ribbons (WWII Victory Medal, Good Conduct Medal, European-African-Middle Eastern Campaign Medal, American Campaign Medal; it is worth noting that a second Good Conduct Medal ribbon is present under the pocket flap), Service Stripe and Overseas Service Bars. Label dated June 30, 1944, size 38R. 
Laundry numer B-8323 has been handwritten in the wool serge trousers; no label. The Special flannel shirt also retains its 102nd Infantry Division and Third Army shoulder sleeve insignia; no label. The Other Ranks garrison cap features the maroon and white piping of the Medical Department; no label; corresponds to size 7.
Nice homogeneous set, in excellent overall condition, which comes from the family of Herbert C. Bohm (ASN 36288323).
Herbert Carl Bohm was born on November 23, 1919 in Green Valley, Wisconsin and joined the US Army on December 5, 1942. He went on to serve as a Medic in the ETO with the 102nd Infantry Division. He was discharged on March 18, 1946 and passed away on January 15, 2003.
https://aad.archives.gov/aad/record-detail.jsp?dt=893&mtch=1&cat=all&tf=F&q=36288323&bc=&rpp=10&pg=1&rid=6458759
https://fr.findagrave.com/memorial/198286510/herbert-bohm
Illustration documents available in digital format only.