Back

Original

Female personnel

Diverse accessories

Sports and recreation

Grouping

Photographs

British Made

D-DAY

World War I

Reproduction

Female personnel

Diverse accessories

Memories

Clothing

Accessories

Caps

Stationery store

Tableware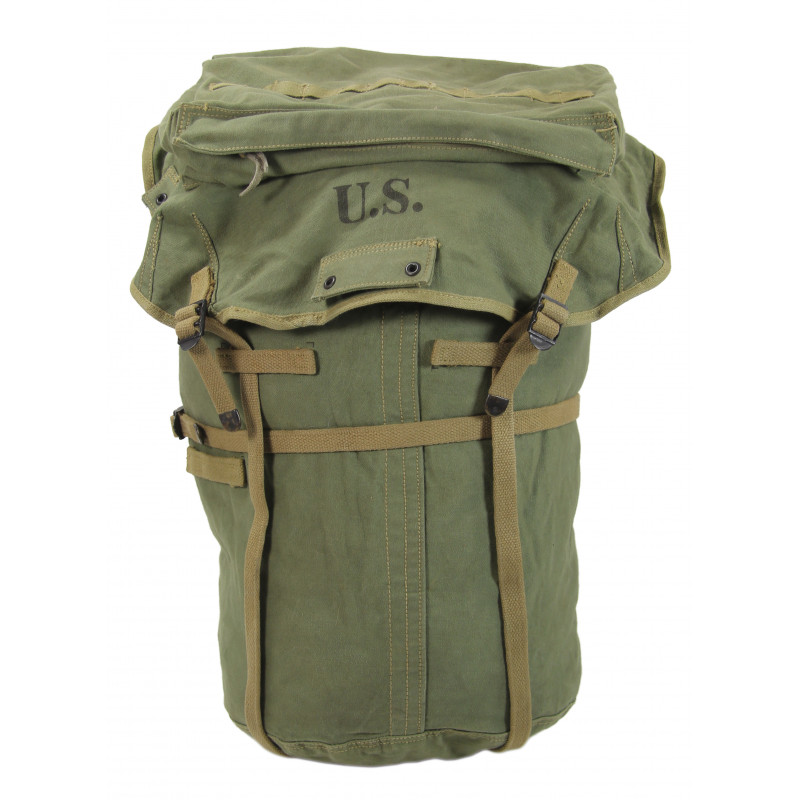  
Pack, Jungle, OD 7, Boyt, 1942, Cpl. John Smida, 637th AAA Bn.
Very nice genuine WWII US M1943 Jungle Pack of the OD7 cloth type. Intended for troops deployed in tropical theaters of operations, the Jungle Pack was first tested in Panama prior to being issued to various units in the Pacific in 1943 and 1944. Two versions were produced -- OD7 fabric and camouflage fabric.
The present early production pack was manufactured by Boyt and dated 1942. Complete with all straps. Conmar zipper in working order. Name J. Smida has been handwritten on the flap. Excellent overall condition.
John George Smida, Jr. was born on April 28, 1921 in Chicago, Illinois and joined the US Army on September 7, 1942. He went on to serve with Battery C, 637th Anti-Aircraft Artillery Battalion. He passed away on May 19, 2008.
https://aad.archives.gov/aad/record-detail.jsp?dt=893&mtch=1&tf=F&q=36369591&bc=&rpp=10&pg=1&rid=6538819
https://fr.findagrave.com/memorial/163486702/john-g-smida
Illustration documents available in digital format only.
You might also like