Back

Original

Female personnel

Diverse accessories

Sports and recreation

Grouping

Photographs

British Made

D-DAY

World War I

Reproduction

Female personnel

Diverse accessories

Memories

Clothing

Accessories

Caps

Stationery store

Tableware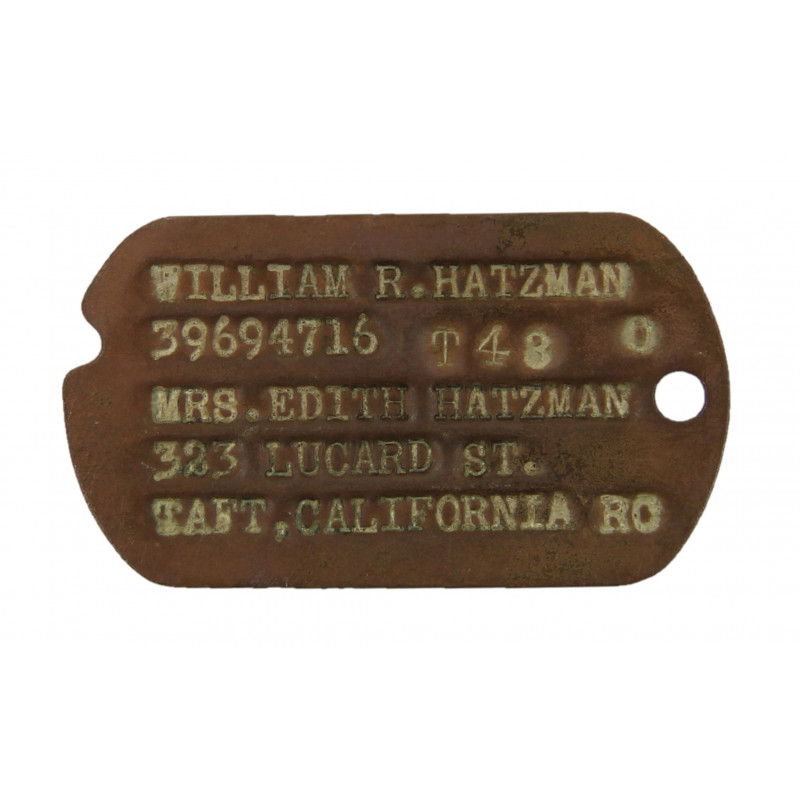  
Dog Tag, William Hatzman, USAAF, ETO
Genuine WWII US Army dog tag, issued to William R. Hatzman, ASN 39694716, vaccinated against tetanus in 1943, blood type O, Roman Catholic. The present tag was found along with dozens of others on the site of a former USAAF air base in Kent, England in the 1980s.
William Robert Hatzman was born on May 23, 1924 in Bradford, Pennsylvania and joined the US Army on February 26, 1943. He went on to serve in the USAAF and deployed to Europe. He passed away on December 27, 1991.
https://aad.archives.gov/aad/record-detail.jsp?dt=893&mtch=1&cat=all&tf=F&q=39694716&bc=&rpp=10&pg=1&rid=8063617
https://fr.findagrave.com/memorial/16529058/bill-hatzman
Illustration documents available in digital format only.