Back

Original

Female personnel

Diverse accessories

Sports and recreation

Grouping

Photographs

British Made

D-DAY

Reproduction

Female personnel

Diverse accessories

Memories

Clothing

Accessories

Caps

Stationery store

Tableware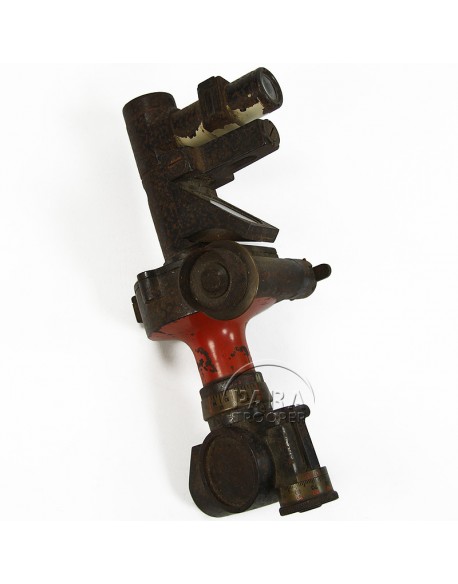  
Telescope, Panoramic, Rbl.F.16, Rundblickfernrohr 16
Genuine WWI German panoramic telescope Rbl.F.16, Rundblickfernrohr 16 for 75mm howitzer.
Manufactured by Goerz at Berlin.
The Panoramic Telescope Rbl. F. 16, which has been replaced by the Rbl. F. 32 and 36, is still used on the 7.5 cm l. I. G. 18. It is a 4-power, fixed-focus type with a cross level and longitudinal level for checking the alignment when the telescope and bracket are secure to the mount. Since the levels are not readily visible in this position, a mirror is provided on the telescope. The elevation scale and micrometer of the head resembles those of the standard telescope, Rbl. F. 32. The azimuth scale is graduated in 100-mil intervals and numbered from 0 to 64. The azimuth micrometer scale is graduated in units of one mil. The throwout and locking mechanism is the same as that of the usual type of panoramic telescope.