Back

Original

Female personnel

Diverse accessories

Sports and recreation

Grouping

Photographs

British Made

D-DAY

Reproduction

Female personnel

Diverse accessories

Memories

Clothing

Accessories

Caps

Stationery store

Tableware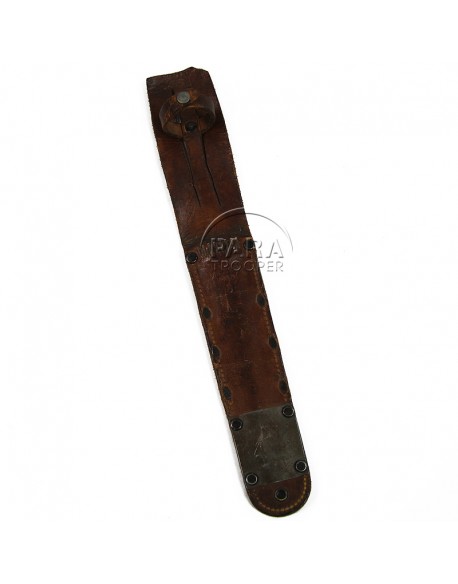  
Scabbard, USM6, MILSCO 1943, modified
Genuine WWII USM6 leather scabbard, made by MILSCO. The sheath is fastened on to the back part by copper rivets, the last of which is slightly off centre to allow for a leather leg lace. The fastening of the two leather parts is ensured by a strong sewn seam.
The belt hook was cut off, modified often seen among paratrooper to put it at the heel.
Approved from 2 January 1943, the USM6 sheath has strengthening pieces at the lower end of sheath consisting of two rectangular metal plates, one on each side. These two plates are fastened by four rivets which help keep together the leather, making up the sheath. Fastening is otherwise ensured by other rivets and the traditional seam. Metal staples reinforce the top of the sheath on which rests the knife's hilt. Maker's markings show on the face of the sheath - USM6 (code number of this type of sheath), MILSCO and the date 1943.