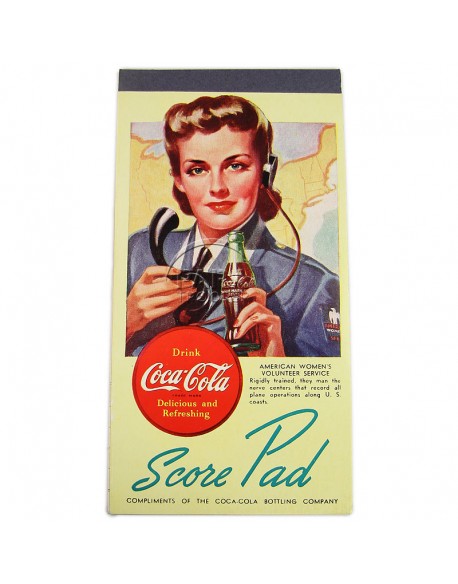  
Score pad, Coca-Cola, AWVS
Genuine WWII card playing score pad with the compliments of The Coca-Cola Bottling Company.
With an American Women Volonteer Service cover. 
In 1943, U.S. Army General Dwight D. Eisenhower made an urgent request to the Army Chief of Staff, General George Marshall, asking not for more troops, but for three million bottles of refreshing All-American Coca-Cola to be sent to soldiers in North Africa.
Marshall approved Eisenhower's request, knowing how important the taste of home represented in the popular soft drink was to improve the morale of the troops deployed overseas. Coca-Cola President Robert Woodruff also knew how shocking the gesture would be. In previous years, Woodruff had ordered that every man on duty get a bottle of Coca-Cola for a nickel, wherever he is and whatever it costs the Company.
Following Eisenhower's request, Coca-Cola quickly went into action and within six months, a Coca-Cola engineer had traveled to Algiers (in North Africa) where he opened the first plant of 64 bottlers sent abroad during the armed conflict. The plants were set up as close as possible to the battle lines in Europe and the Pacific.
The logistics of moving the bottling plants in the midst of a warring world was not an easy task. According to Coca-Cola, a special group of the company's employees known as "technical observers" or "TOs" bottled and shipped over five billion bottles of Coca-Cola to troops on duty during World War II.
The Atlanta-based company built makeshift bottling plants near the front lines, and eventually employed nearly 150 TOs, who were assimilated into Army officers. The so-called "Coca-Cola colonels" supervised the production of Coca-Cola and had no other military duties to perform.
Coca-Cola was the taste of home for American soldiers and drinking a cold Coke in the family-size bottle was a reminder of their families and loved ones in the United States in a world of death and destruction.
In the photograph that illustrates the publication, the American crew of a masked shell battery from the 133rd Field Artillery Battalion collects Coca-Cola bottles from a wooden crate and distributes them to the gunners. With their M1 steel helmets on foot and the artillery grenades on loan, all indications are that the photo was taken in a sector near the front of the battle. The photograph was taken on March 17, 1944 "somewhere on the Italian front".