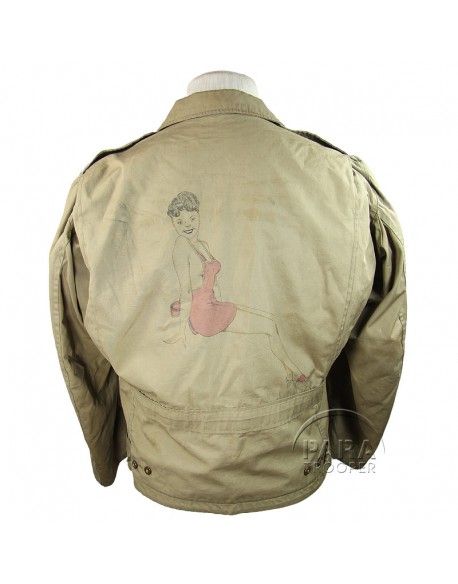  
Jacket, Field, M-1941, Pfc. Chambers, Pin-Up
Nice genuine WWII US M-1941 short windbreaker-type jacket, in windproof and water-resistant cotton poplin with flannel lining. Retains its original USAAF shoulder patch. Complete with all buttons and Talon zipper in working order. A pin-up girl has been drawn on the back and a gunner's badge on the breast. Fits like a size 36.
Name Chambers and laundry number C-0694 have been handwritten inside, indicating that this jacket belonged to Stewart B. Chambers, ASN 13110694. Stewart Benjamin Chambers was born on May 7, 1920 in Erie, Pennsylvania and joined the US Army Air Corps on December 7, 1942. Discharged on December 13, 1945, he passed away on May 21, 1997.
Another name has been stenciled inside: Ballnik. The latter probably corresponds to Anthony Christopher Ballnik (1918-2007), who served in the USAAF as a Staff Sergeant (ASN 36123323).
https://aad.archives.gov/aad/record-detail.jsp?dt=929&mtch=1&cat=all&tf=F&q=13110694&bc=&rpp=10&pg=1&rid=88756
https://fr.findagrave.com/memorial/134443012/stewart-b-chambers
Illustration documents available in digital format only.