Back

Original

Female personnel

Diverse accessories

Sports and recreation

Grouping

Photographs

British Made

D-DAY

World War I

Vietnam War

Reproduction

Female personnel

Diverse accessories

Memories

Clothing

Accessories

Caps

Stationery store

Tableware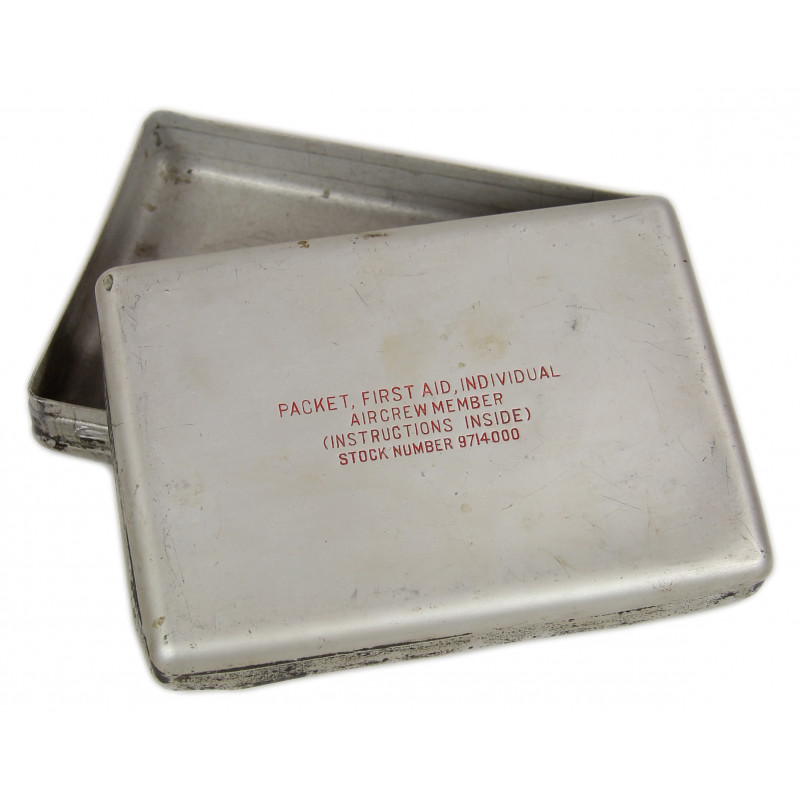  
Packet, First Aid, Individual, Aircrew Member, USAAF
Scarce genuine WWII USAAF rectangular aluminium container, intended for the Packet, First Aid, Individual, Aircrew Member, Stock No. 9714000. This box (Medical Item No. 9714005) was divided into two parts, cover and case, which after having been filled and snapped together, were sealed with black adhesive tape, bearing the following inscription: SAVE THIS TAPE – USE TO RESEAL PACKET OR DRESS WOUNDS. 
The Packet, First Aid, Individual, Aircrew Member (Air Corps Stock No. 8300-6237125) was introduced late in WW2 and only gradually issued to each individual aircrew member for his original needs. It was first intended for fighter pilots following the removal of the Kit, First Aid, Aeronautic (Medical Item No. 9776500) from fighter aircraft, as the latter was considered too bulky for the cramped cockpit. Moreover, its compact size allowed it to be easily stashed away in the pilot's clothing or stored with his personal effects.
The present kit was manufactured and supplied by W. & K. Mfg. Co., New York, N.Y. A decal (olive drab background, red cross, list of contents & use) is fixed inside the cover. 
Dimensions: 5.5in x 4in x 1.3in.
Box is empty; very good overall condition.
| | | |
| --- | --- | --- |
| Number | Item | Quantity |
| 9714005 | Case, First Aid Kit, Air Crew, Individual, Empty | 1 |
| 9206100 | Dressing, First-Aid, Small, Field Brown (Camouflaged) | 1 |
| 9121100 | Sulfanilamide, Crystalline, 5-Gm Envelope | 2 |
| 9115700 | Morphine Tartrate Syrette, ½ gr. | 2 |
| 9120400 | Sulfadiazine, 8 Tablets, 7 ½ gr. | 2 |
| 9116500 | Petrolatum, Tube, ½ oz. | 1 |
| 9102925 | Benzedrine Sulfate, 6 Tablets | 1 |
| 9121805 | Tablet, Water Purification, 100 | 1 |
| 7878000 | Pins, Safety, Medium, 9s | 1 |
| – | Plaster, Adhesive, Field Brown, 1″ x 2 ½ yard roll | 1 |