Back

Original

Female personnel

Diverse accessories

Sports and recreation

Grouping

Photographs

British Made

D-DAY

World War I

Vietnam War

Reproduction

Female personnel

Diverse accessories

Memories

Clothing

Accessories

Caps

Stationery store

Tableware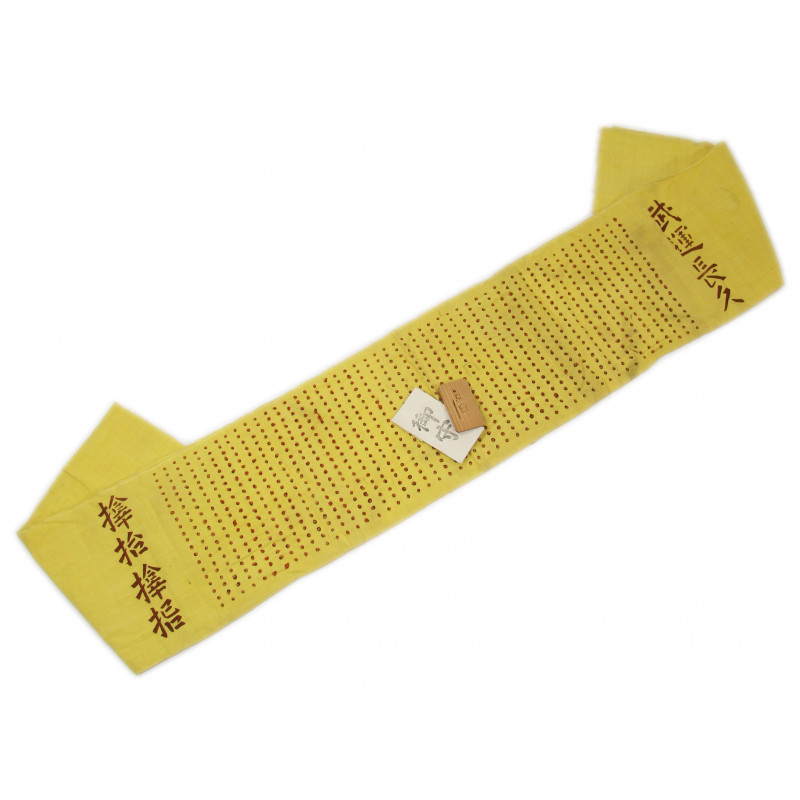  
Belt, Thousand Stitch, Japanese, Senninbari haramaki
Very nice genuine WWII Japanese cloth belt, Senninbari haramaki. Just like the good-luck flag offered by families and friends (Hinomaru yosegaki) or the war banner given by some local association or patriotic organization (Shussei nobori), the 'one-thousand stitch belt' is one of the main spiritual protection artifacts carried by the Nipponese serviceman departing for war. Its origins seem to date back to the First Sino-Japanese War (1894-1895). Designed by the warrior's mother, sister, or spouse, it was a participative work, made up of a plain fabric strip intended for being tied around the waist, on which various motifs and messages of encouragement were to be sewn or inked: traditionally, a total of one thousand stitches had to be embroidered, and every single stitch was to be done by a different woman at the request of the initiator. 
Made up of yellow material, the present belt is adorned with various ideograms printed on either side of the thousand stiches; a small wooden amulet, protected by a paper envelope, has been slit between the two panels.
Excellent overall conditon. Total length: about 44.5in.
You might also like