Back

Original

Female personnel

Diverse accessories

Sports and recreation

Grouping

Photographs

British Made

D-DAY

Reproduction

Female personnel

Diverse accessories

Memories

Clothing

Accessories

Caps

Stationery store

Tableware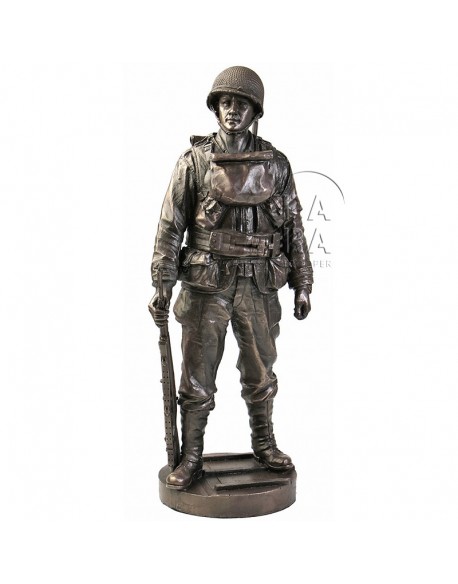  
Statue U.S. Infantryman Assault Boat Team - Normandy
Statue U.S. Infantryman Assault Boat Team - Normandy. 12,5 inches.
The manufacturer having closed, these are the last copies of this beautiful statue.
WW II rifleman impression represents a member of an Assault Boat team about to hit the beach as part of the Allied invasion's first wave at dawn on June 6 1944.  Wet, seasick and already fatigued, his face reflects grim determination in the final moments standing on the deck of his assault boat before the ramp is lowered.  One of the squad's five rifle team members to be the first to follow their team leader onto the beach.  Wearing the U.S. assault vest, U.S. Navy M1926 lifebelt, his M5 gasmask across his chest, and carries the U.S. M1 Garand rifle.
Our 12 inch 1:6 scale bronze cold cast resin figurines are as individual as the service personnel they portray. Unlike mass-produced collectibles, our finely sculpted collector figurines are cast and finished one at a time - so each sculpt really is one of a kind. Often 2 years go into an individual sculpture project including over 200 hours of sculpting time. Extensive research and fine sculpting ensures that each subject is historically and physically accurate as possible. Our 12 inch statues are limited edition with individual serial numbers, and are packaged in a high quality color presentation box. Our statues are bronze cold cast resin or 'bonded bronze'.  Our statues will age and darken naturally with time, and can be carefully cleaned with a soft lint free cloth or warm water. DO NOT use abrasive cleaners or detergents. Like any display item, our statues should be handled with care. Our statues often have small parts and can be damaged easily through mishandling.  As display pieces, they are recommended for ages 12+. When unpacking our statues please take notice and be very careful unpacking and removing the statue from the box and foam packing material.  DO NOT remove the statue by pulling on the protective bag or removing by the body or head.  Lift out the statue by firmly holding the base or legs.