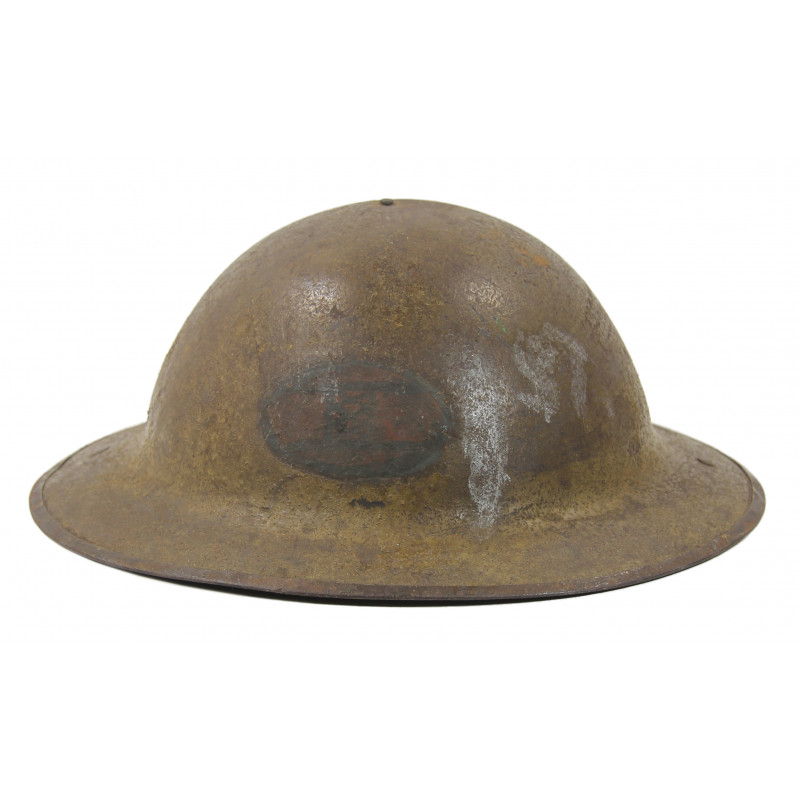  
Helmet, M-1917, Cpl. James Tolson, HQ Co., 118th Inf. Reg., 30th Infantry Division, AEF
Very nice genuine WWI US Army M-1917 Brodie helmet, on the front of which the 30th Infantry Division insignia has been hand-painted. Shell markings are hardly legible. In good, worn condition, this helmet retains some components of its original liner.
The 30th Infantry Division 'Old Hickory' mostly saw action in Belgium in September and October 1918, sustaining over 1,600 fatal casualties, while some 6,700 men were wounded and about 200 missing in action.
The present helmet, which belonged to Corporal James G. Tolson, ASN 1312830, HQ Company, 118th Infantry Regiment, 30th Infantry Division, a resident of Timmonsville, South Carolina, was bought from his own nephew.
James Garland Tolson was born on July 31, 1898 in Cartersville, South Carolina. On May 11, 1918, he set sail from New York aboard the Elpenor, heading for France. An article of the Charlotte News, December 17, 1918 issue, reports that he was wounded in action. He Passed away on April 17, 1977.
https://30thinfantrydivision.weebly.com/wwi.html
https://www.ncpedia.org/old-hickory-division
https://fr.findagrave.com/memorial/197316074/james-garland-tolson
An amazing American Expeditionary Force relic in good field condition -- don't miss it! 
Illustration documents available in digital format only.