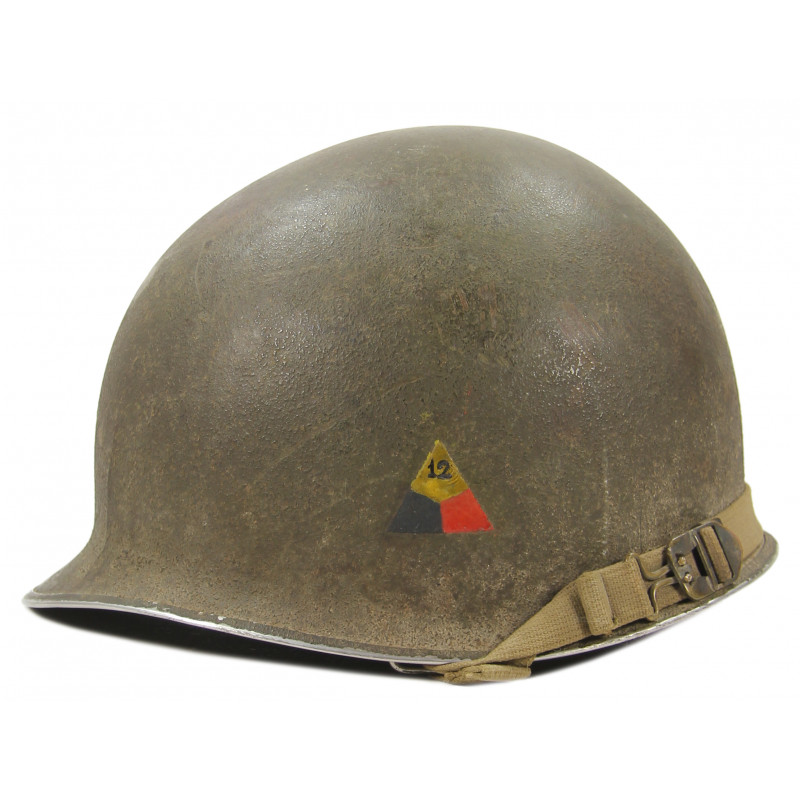  
Helmet, M1, Capt. James Stephens, 12th Armored Division
Exceptional genuine WWII US Army grouping, which belonged to Lt. Col. James D. Stephens, service number O-359676.
James Darwin Stephens was born on May 2, 1916 in Prestonsburg, Kentucky. Following his graduation from Kentucky Military Institue, he was ordered to active duty in April 1941; after a first overseas tour in Panama, he returned to the States to receive additional training in 1943-1944 and was subsequently transferred to Britain as an administrative officer for the American Continger, First Civil Affairs Group. In October 1944, he was posted to the 95th Infantry Division HQ and saw action with the 379th Infantry Regiment in France and Germany, where he was noticed for his exemplary conduct. In February 1945, he transferred to the 12th Armored Division and served with Combat Command A, 66th Armored Infantry Regiment and 493rd Armored Artillery Regiment in combat conditions.
After the war, he pursued a distinguished career at Fort Knox, Kentucky and Fort Meade, Maryland and retired in the 1960s because of health issues. He became historian of the Kentucky Military Institute and passed away in the 1990s.
This amazing set includes the following items:
- His genuine US M1 helmet, fixed bales, manufactured by McCord, shell number 157A, original 1st pattern canvas straps with brass buckles. The 12th Armored Division insignia has been handpainted on both sides of the shell and the service number is legible inside. Complete with its liner, featuring OD-painted A washers, manufactured by Firestone; his service number was written inside, too.
- A German ammunition crate (1,500 rounds), brought back as a souvenir and reused as a 'locker' for personal belongings. In excellent condition, this crate retains its original label and markings; the lid features James Stephens' name and address in the States.
- The above-mentioned crate contains various maps, photographs, bank notes and other documents related to his service in Germany during the late stages of the war in Europe (see pictures for details).