Back

Original

Female personnel

Diverse accessories

Sports and recreation

Grouping

Photographs

British Made

D-DAY

Reproduction

Female personnel

Diverse accessories

Memories

Clothing

Accessories

Caps

Stationery store

Tableware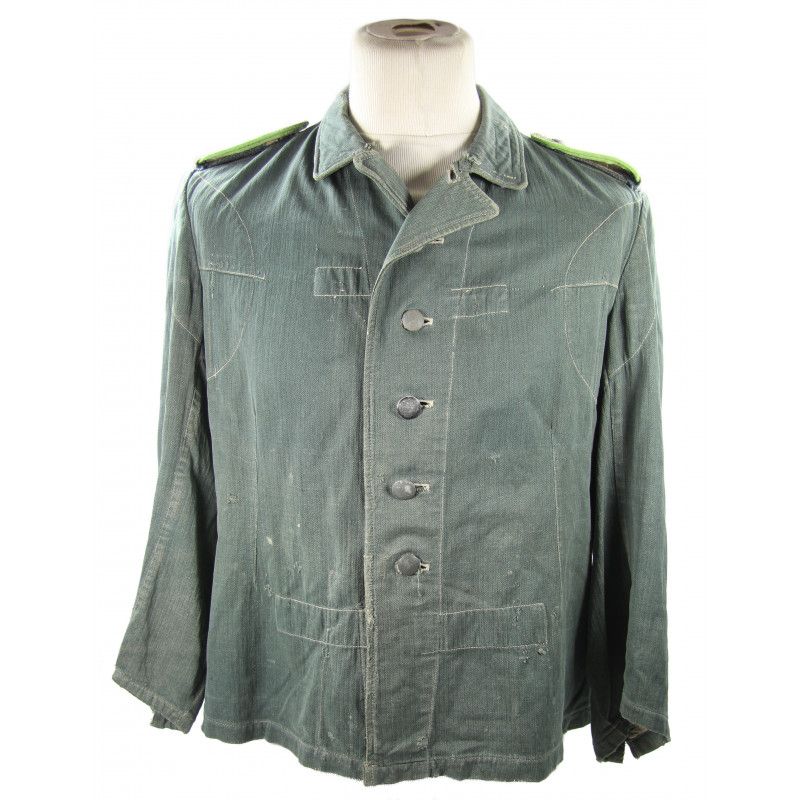  
Summer Jacket, Drillich, Panzergrenadier
Scarce genuine WWII German Drillichbluse summer tunic, first type, reed green tone. Introduced in 1942, this combat and duty jacket was made from natural linen, following the Feldbluse's pattern. Such tunics were widely worn by Wehrmacht troops during the Battle of Normandy.
The pockets of this particular jacket have been removed yet it retains 5 of its 6 pebble-surfaced aluminium buttons. Both shoulder boards are still present -- each being kept in place by a similar button -- and feature a meadow-green piping; within the Heer, this color indicates mechanized infantry troops (Panzergrenadiere). No other patch or insignia appear.
In very good overall condition, this jacket was undoubtedly worn, as indicated by the various repairs visible on the collar. An amazing historical artefact.