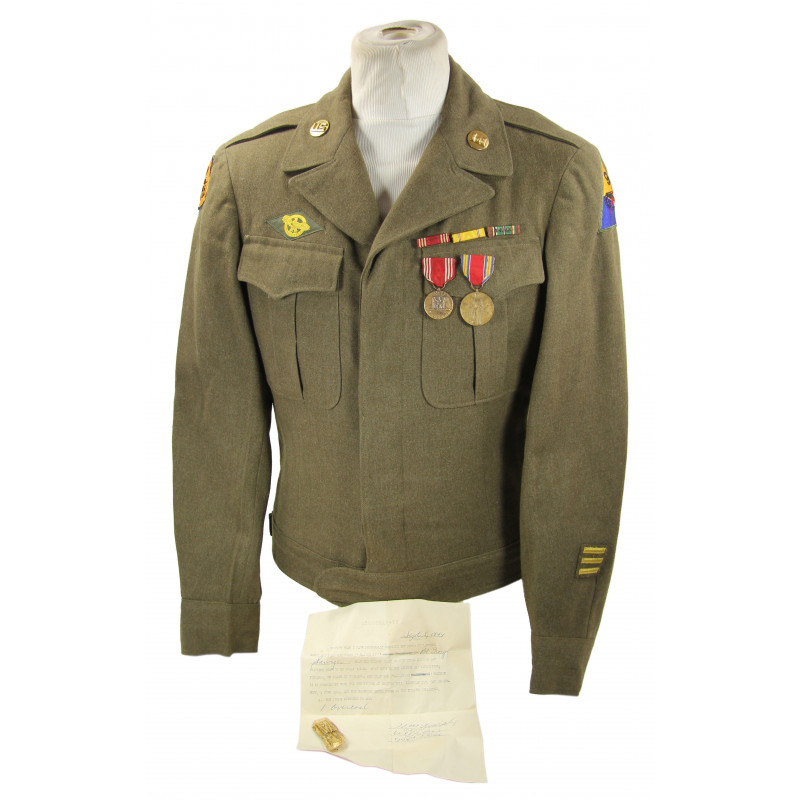  
Jacket, Ike, 774th Tank Destroyer Bn., 9th Arm. Div., ID
Superb genuine WWII US Army regulation enlisted men's jacket, as chosen by General Eisenhower in April 1944 -- hence the 'Ike Jacket' denomination under which it soon became popular.
The present one retains all its original insignia: 9th Armored Division and Tank Destroyer units shoulder sleeve insignias, US-embossed and Engineers collar discs, medal ribbons (Good Conduct Medal, American Defense Service Medal and European–African–Middle Eastern Campaign Medal with four Stars), Overseas Service Bars and 'Ruptured Duck'. Full-size Good Conduct Medal and Victory Medal have been pinned on the left breast pocket.
Label still present, dated June 2, 1944, size 36L. The name Sawyer George has been handwritten in the collar. Excellent overall condition -- no moth damage visible. A condom (!) and an original document come along with the jacket: dated September 5, 1944, this certificate indicates that Private George Sawyer served with the 774th Tank Destroyer Battalion.
According to the roster, George G. Sawyer belonged to B Company. Born on July 12, 1918 in Roxbury, Massachusetts, George Graham Sawyer joined the US Army on January 16, 1941 in Boston. He was discharged on November 24, 1945 and passed away on April 28, 1944.
http://www.tankdestroyer.net/images/stories/ArticlePDFs/774_Roster_Pages_184-199.pdf
https://aad.archives.gov/aad/record-detail.jsp?dt=893&mtch=1&tf=F&q=20123354&bc=&rpp=10&pg=1&rid=1849420
You might also like